Live the life of a monk
By MITCH MOXLEY, Now Toronto, March 1, 2007
A pilgrimage to Koyasan means prayers, chores and vegetarian food
Mount Koya, Japan -- It's 6 am and the monks are chanting. I'm sitting cross-legged on a tatami mat in the ceremony room of a mountaintop temple near Osaka, Japan, trying my best to stay absolutely still and focus on breathing.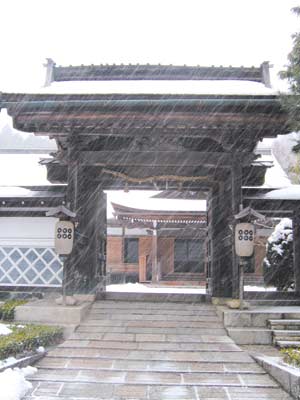 << The Koyasan monastery is one of the few in Japan not overrun with tourists.
"Imagine there is an empty pipe running from your nose to your abdomen, and fill it with air," the head monk instructs.
"Count to 10."
In, out one. In, out two.
It's not working. My groin is killing me, my back is giving out and I'm thinking about the one thing I want most: more sleep.
Actually, there is something I could use more than sleep heat. It's mid-December in a mountaintop temple with no heating or insulation, and it's very, very cold.
I'm staying at Rengejo-in temple on Mount Koya, or Koyasan, as the Japanese call it, a mountain two hours from Osaka famous for its myriad temples that offer overnight lodgings. It's a popular destination for both Japanese and foreign tourists hoping to witness life as a Buddhist monk.
But there's a catch: because a visit to Koyasan is considered a religious pilgrimage, guests of most temples are required to, well, live like monks. That means prayer at dawn, meditation in the afternoon, daily chores and vegetarian food.
For those seeking an authentic spiritual experience in this land of neon lights, pachinko parlours and sprawling cities, Koyasan is the place. Japan holds enough temples to last a lifetime, but in places like Kyoto it can be difficult to appreciate their beauty and historical significance amid the tourists and souvenir shops. Koyasan is as close as it comes to the real thing.
Founded by the revered monk Kobo Daishi nearly 1,200 years ago, Koya is considered the birthplace of the Shingon sect of esoteric Buddhism. It's also home to the largest Buddhist graveyard in Japan, called Okuno-in, an eerie place that sprawls several kilometres through a forest of cypress trees.
Esoteric Buddhism is known for its elaborate ceremonies and rituals, and the monks here consider meditation and sutra chants the keys to spiritual connectivity.
For inexperienced foreign visitors, the sessions can be excruciating. I had never imagined meditating was so difficult 45 minutes of nothing.
No moving, no blinking, no scratching that persistent itch on your forehead. In other words, it feels like an eternity.
Indeed, the life of a monk is not an easy one. Kazutoyo Tamaru, a 36-year-old monk-in-training from Tokyo, spends the bulk of his day studying at the Buddhist university on Koyasan, only to return home to the monastery and take up the mundane tasks of running a temple, including cleaning, cooking and preparing for new guests. That's not to mention the hours of chanting and meditating.
"The monks work and practise very, very hard," says Soeda Kiyoma, the wife of Master Soeda, the temple's head monk, during our dinner ceremony. Aside from few years of school in Tokyo, Kiyoma has spent all of her life on Koyasan, much of it in Rengejo-in temple.
The temple itself is an impressive structure. Visitors are greeted at the front entrance by an ornate gateway opening to a rock garden. Prayers and meditation are conducted in the ghostly ceremony room, dimly candlelit and smelling of incense. I'm staying in a small room in the back of the temple with a tatami floor and paper screen walls. Slide one of the walls open and you see a snow-covered garden fit for a postcard.
At dinner, guests in kimonos gather in the dining room for a meal of tofu, miso soup, green beans and other vegetarian fare.
The food is delicious but difficult to enjoy in the bitterly cold room. When Kiyoma informs us that the temple's piping-hot bath is out of commission, it seems like a cruel joke.
By most accounts, a temple stay at Koyasan is a glimpse into the country's past, a rare taste of the simple life. But it is still Japan, after all, and in Japan you are never far from modernity.
In the hallway outside my room, a glowing vending machine offers everything from Coke to hot lattes.
Only in Japan.