On pilgrims' route, temple a life-saver
IHT/Asahi, August 7,2007
Imabari, Japan -- The most famous pilgrimage in Japan is the 1,400-kilometer journey around the 88 temples of Shikoku.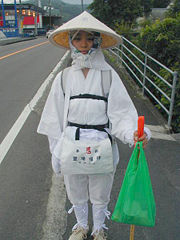 Year-round, pilgrims known as ohenro-san, follow in the footsteps of the Buddhist monk Kukai, who is associated in some way with all 88 temples. Senyuji temple in the Tamagawacho district of Imabari is the 58th temple on the route.
Last year, a pilgrim collapsed at the ancient building on Mount Sareizan and later died in a hospital. Resident priest Kensho Oyamada was determined not to have any more tragedies. So he installed an automatic external defibrillator (AED) to respond better to future emergencies. The AED is a portable electronic device that can be used by laypersons to administer electric shocks to jump-start a stopped heart.
The temple, working with local district welfare officers, recently held an AED training session. A temple representative said: "(The device) could be a life-saver not only for the visiting ohenro, but for our local residents, too."
The AED is a medical device that treats ventricular fibrillation--which is potentially life-threatening as it cuts blood circulation to the body. The AED sends electric shocks to the heart to re-establish an effective rhythm.
In July 2004, restrictions were lifted on who could use an AED. Now people with no formal medical training can operate the handy device. Train stations, airports, and schools have started stocking AEDs.
Senyuji purchased an AED machine for about 300,000 yen in June. According to the Japan Foundation for Emergency Medicine based in Tokyo, it is highly unusual for a temple to have one.
The temple is located 300 meters above sea level. To reach it and collect an amulet, pilgrims must brave narrow mountain trails up a steep 3-km climb. In case of an emergency, it takes time for paramedics to get there. Thus, the availability of effective first aid could be a matter of life and death.
The first AED training session was held at the temple on July 7. Resident priest Oyamada, who also heads the district welfare officers committee, invited fellow members to attend the training session. About 20 people learned how to use the AED from emergency rescue staff dispatched from the Tamagawa branch of the Imabari Central Fire Station.
They learned that 50 percent of lives are lost during the crucial three minutes after cardiac arrest. Using three cardiopulmonary resuscitation (CPR) first aid training dummies, the group practiced giving electric shocks using the AED and learned how to give artificial respiration and cardiac massage.
Misako Ukena, a 72-year-old district welfare officer who attended the training, said: "Even if there is someone lying before your eyes, needing help, what could you do if you did not know any CPR? We went over the procedure so many times, and now I am positive the knowledge will be useful in case there is an emergency."
---
About The 88 Temple Pilgrimage of Shikoku
The pilgrimage grew out of the legends of a great man in Japanese history, who goes by many names: Kukai, Kobo Daishi, or just The Daishi. He gave himself the name Kukai, which means sky and sea, at the time when he is said to have attained Enlightenment. His posthumous name, Kobo Daishi, means Great Saint. He is seen not even as a man but almost a deity who walked on earth, so that he transcends sect and religion.
Kukai was born in Shikoku and lived in the 9th century. He was a top student in University but was not satisfied with what he learned. He was granted permission by the government to study Buddhism in China. After two years he came back to Japan with a new kind of Buddhism called Shingon (True Word).
His new ideas were integrated into the Japanese Buddhism of the time and he became a leader in the monastic community. He predicted the day he would die and is said to now be in an eternal state of meditation. Apart from being a Buddhist leader, he is also celebrated for his linguistic abilities (he is credited with creating the Japanese syllabery, called hiragana), for his mastery of calligraphy, and for being involved in educational reform. From these natural abilities and opportunities he took, many stories and legends have been created about him.
After his death, in 835, many holy men and monks wanted to spread his teachings and establish a pilgrimage in his honour on his homeland. It developed gradually, beginning in the 14th century.
When a pilgrim is journeying on the Shikoku pilgrimage, he is said to be walking with the Daishi. -- by Brooke Schedneck