Buddhist monks now going clubbing
BY AYATERU HOSOZAWA, THE ASAHI SHIMBUN, August 16,2007
Tokyo, Japan -- The booze is flowing freely and the patrons in the smoke-filled bar are in good spirits. Club Chippy in Tokyo's Edogawa Ward is known as a place to go for good jazz. But instead of musicians taking the small stage, three Buddhist monks face the audience.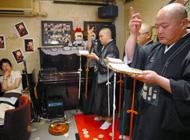 << Buddhist monks perform at Club Chippy in Tokyo's Edogawa Ward.(SHINICHI IIZUKA/ THE ASAHI SHIMBUN)
That much is evident from their shaved heads and conventional black attire.
They then start chanting Buddhist sutras and passages in Sanskrit while patrons sit back in awe or try to do the same.
This unusual scene occurs one night a month. It is part of an effort to stir up interest in Buddhism among Tokyoites, whose paths rarely cross with Buddhist monks outside of funeral ceremonies or occasional visits to temples.
Increasingly, younger-generation monks are trying to reach out to the public.
They say that only by connecting with the public at large does Buddhism have any chance of remaining relevant to ordinary people. Thus, the performances at Club Chippy, in an area near JR Shin-Koiwa Station crowded with bars and eateries, are as much about survival as anything else.
The club appearances are the brainchild of Hogen Natori, 48, a senior monk at the Mitsuzoin temple of the Shingon sect of Buddhism, located in Edogawa Ward.
He is joined by two younger monks for the stage shows.
Natori said he came up with the idea of the sutra sessions during his visits to Chippy to listen to live jazz performances. That was five years ago.
"In the beginning, some people thought there was a funeral wake going on inside and just left," said Kyoko Sakamoto, who runs the establishment. "But now, people come for the comfort that the sounds of sutra offer."
The monks perform three or four pieces each time and later sit among the audience, sometimes offering advice on life's problems to those who seek it.
Meantime, monks from the Komyoji temple of the Jodoshinshu sect of Buddhism in Tokyo's Toranomon district set up tables and chairs in cafe-style in front of the temple's main hall, overlooking the temple's cemetery plot.
The venue is open to the public. Dubbed the Kamiyacho Open Terrace, it is filled with office workers who bring their lunch around noon each weekday.
"Temples were once the center of communication for the community," said Keisuke Matsumoto, 28, a Komyoji monk. "We organized this in the hope that people would come just as they would to a cafe."
Young monks have been holding regular meetings at the Soto sect's Seishoji temple in Tokyo's Minato Ward since 2003 to talk about issues of Buddhism in contemporary society, ranging from ways to hold better funeral rites and religious support for terminally ill patients to relief work in the aftermath of natural disasters.
"Suffering in society cannot be addressed if monks just stay cooped up inside their temples," said Noriyuki Ueda, associate professor of cultural anthropology at Tokyo Institute of Technology.
"Buddhism in Japan will surely become more relevant if the number of younger generation monks with ambition to spread the word increases."
Ueda, who serves as an adviser to the monks' meetings at Seishoji, says the only way to revitalize Buddhism is for monks to have greater contact with the world at large.