My stay in the big Buddha house
by Danielle Demetriou, The Sunday Times, July 13, 2008
Join the monks in a Japanese Shingon temple for some light meditation, a spot of calligraphy and cream cakes
Mt. Koya, Japan -- The monk is a man of few words. "Copy," he solemnly intones, before vanishing with a swish of robes and a waft of incense through the hand-painted sliding screens. Before me is a scroll filled with hundreds of Japanese kanji characters.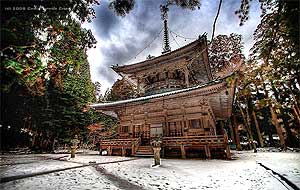 My task? Merely to replicate each and every one onto an empty scroll with a thick ink brush – ideally before dinner, which is only two hours away. Feeling not dissimilar to a schoolgirl given lines for being naughty, I stare blankly at the scroll, ponder my lack of enlightenment and wonder if temple life is for me after all.
It was during a stay within the austere confines of a temple on Mount Koya, one of Japan's most sacred mountains, that my brush with calligraphy took place. And my spiritual sojourn had started only fractionally more promisingly.
Loosely translated as "the middle of nowhere", Koya is a million miles from the shiny skyscrapers, crowded crossings and neon lights most commonly associated with Japan. Here, on a remote plateau, surrounded by eight peaks reminiscent of the petals of a lotus, Japan's spiritual hero, Kobo Daishi, founded the Shingon sect of Buddhism more than 1,000 years ago.
Today, more than 120 temples pepper its ancient forests, many offering basic accommodation to outsiders and providing an unusual glimpse into the lives of monks, from dawn prayers to calligraphy classes.
Keen to swap the maelstrom of urban life for a taste of spiritual enlightenment, I set off for Koya, 3,300ft above sea level, south of Osaka in Wakayama prefecture, My journey from Tokyo to Koya is an allegory of time travel. I start in a gleaming white bullet train, downgrade to a brisk, clean subway and continue in a tiny six-carriage train that gently nudges through cinematic green mountains. The journey back in time is completed with a vertiginous five-minute ride on a clanking cable car to Koya's snow-covered apex.
The path to enlightenment may traditionally be littered with obstacles, but, even so, I fail to anticipate my first challenge: finding my temple. After being politely ejected by a bus driver onto a deserted forest-lined road, I drag my bag aimlessly through the snow for a while – until a schoolboy appears and nonchalantly gestures down the road, without removing his iPod headphones.
Finally, I spy Souji-in temple's ornately carved wooden gates, with orange and white paper stencils fluttering in the breeze, and step inside the manicured courtyard. Subdued greetings are exchanged with shaven-haired monks, shoes are replaced with slippers, and a cup of frothy green tea known as matchais served in an ornate mother-of-pearl-encrusted chamber.
Then it's rule time. As I'm led to my room by a serious young monk, I learn that morning prayers are at 6am, bathroom access is from 4pm, dinner is at 6pm and everything closes down at about 9pm.
Unsurprisingly, my room bears no resemblance to a hotel: it has tatami floors, sliding screen walls, a solitary low table and a calligraphy scroll. My eyes are drawn to the serene view outside: golden lanterns illuminate the snow-sprinkled courtyard and the ancient cypress forests beyond.
The sky is already darkening and, before I can explore, it's dinner time. Several monks rush into my room with dozens of red and black lacquer boxes, brimming with unidentifiable vegetarian delights, all pretty as paintings. From sticky sesame tofu to fluffy pink flower tempura decorated with seasonal plum blossom, the meal is a perfect introduction to the delicate tastes of Buddhist temple cuisine.
After a soporific soaking in the steaming-hot communal baths, I return to my room to find a futon laid out – and, although 8pm is significantly earlier than my usual bedtime, I tumble into an easy, deep sleep.
My virtuous intention to maintain a Zen-like demeanour at all times abandons me at 5.30 the following morning, as a gong resounds through the temple. In the chill morning air, I splash my face with cold water, put on as many clothes as possible and shuffle downstairs in my slippers.
The Aladdin's-cave prayer chamber could not be more different from the austerity of my room. Beneath carved wooden ceilings are glowing lanterns, elaborate golden flowers and a string of kneeling monks in cinnamon-hued robes.
The heady scent of incense and the sound of Buddhist chants fill the icy air as I dreamily survey the scene next to a hissing gas heater, along with an elderly Japanese couple. It is a memorable – if early – start to the day. After a multi-course breakfast extravaganza in my room – tofu, mountain vegetables, rice and tea – I abandon fantasies of digging out the futon for a sneaky catnap and step outside to explore.
With 40,000 cultural properties, compared with a meagre 4,000 inhabitants, Koya is rich in sights and scarce in humans. In the solitary serenity of Banryutei, Japan's largest stone garden, I admire 140 granite boulder "dragons" on a sea of clouds made from carefully raked white sand from Kyoto.
I am fleetingly transported to the high-wire world of Crouching Tiger, Hidden Dragon as I explore the gold-leaf mausoleum of the Tokugawa shogun family. And I lose track of time at the dazzling cluster of wooden temples in the sacred precinct known as the Garan, complete with its eye-blinking tomato-red Daito pagoda.
The icing on the spiritual cake, however, is Okunoin cemetery. Although Daishi is enshrined here, in an opulent mausoleum, the most enchanting part is getting there: via a winding, mile-long path past 200,000 moss-covered tombstones, ornate stupas and towering, ancient cedar trees. A flicker of orange monks' robes in the distance is the only sign of life as I wander along the stone path, past endless clusters of lichen-clad tombstones of emperors, poets and shoguns.
The sound of chanting rings out at the top of the path, where Daishi lies in "eternal meditation", surrounded by ornate golden flowers and endlessly burning candles.
I'm brought back down to earth with my calligraphy class later that day. Surprisingly, though, I find myself slipping into a calming rhythm of copying – albeit messily – and finish just in time for dinner.
Mission accomplished, the following morning I move into the Ichijo-in temple to master another Buddhist skill – meditation. After purifying my hands with red incense powder, I am led past delicately painted sliding screens and carp-filled ponds before stepping into a tiny candlelit room.
Here, a monk mistakes my rudimentary Japanese for an ability to communicate and launches into what I imagine is a lengthy explanation of how to reach nirvana via meditation. This is followed by 40 minutes of silence. At least 10 minutes are absorbed with pins and needles in my right foot and wondering what I'll eat for lunch. Then, slowly, gradually, I silence the mental chattering and fidgeting – and, by the end, stiff legs aside, I emerge refreshed, mellow and calm.
Later that day, wandering along the main street, I realise that, despite my new-found serenity, there is one thing missing: human company. At this moment, the gods of Koya intervene. Strolling past the window of the pretty Café de Lotus, I spy a woman inside waving. Jun-san, with diamanté sunglasses perched on glossy black hair, is the wife of a respected local monk – and, having lived in Los Angeles for 14 years, possibly the most glamorous thing Koya has ever seen.
Feeding me sweet yuzu tea and giant slices of cream cake, she regales me with hilarious tales of "monk parties" at Shingon Buddhism conventions around the world, the difficulties of being a cosmopolitan sophisticate living in Koya and her disappointment at her daughter's decision not to marry a monk.
That evening, she takes me on a tour of the lantern-lit Okunoin cemetery – followed by a trip to a local store, where she insists on buying me cakes, sweets and a flower-arranging magazine, "to make sure you don't get bored at that temple".
The following morning, I take a final solitary sunrise stroll. As the mist swirls around the ancient forest temples, I contemplate my return to civilisation. After my brush with Jun-san, I am the proud owner of a set of basic calligraphy skills – not to mention refreshed, serene and ready to embracethe throng of humanity that is Tokyo.