Fire destroys World Heritage Kyoto temple hall
The Yomiuri Shimbun, Aug 25, 2008
KYOTO, Japan -- The Juntei Kannondo hall of Daigoji temple, a UNESCO World Heritage Site, in Fushimi Ward, Kyoto, was destroyed in a fire early Sunday morning, police said.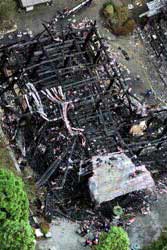 << The charred remains of the hall are pictured in Kyoto's Fushimi-ku on Sunday
The temple notified the Kyoto City Fire Department of the fire at about 12:30 a.m. and more than 20 fire engines were sent to battle the blaze.
A Buddhist statue believed to be from the Edo period (1603-1867) that was enshrined at the hall also was destroyed in the fire, police, who were investigating the cause of the fire, said.
The Juntei hall in the Kami-Daigo area situated at the top of Mt. Daigo was reconstructed in 1968. It was the 11th stop on a pilgrimage route of 33 temples in western Japan dedicated to the bodhisattva Kannon.
Daigoji, the head temple of the Daigo branch of the Shingon sect of Buddhism, comprises two precincts in the Kami-Daigo area and the Shimo-Daigo area at the foot of the mountain.
The Kami Daigo area houses many Buddhist halls.
The Kyozo sutra repository, a designated national treasure, located about 20 meters south of the Yakushido hall in the area was destroyed in a forest fire in 1939.
According to the temple's Web site, the temple was originally built in 874 and the temple buildings in the two precincts were completed during the reigns of Emperors Daigo, Suzaku and Murakami in the Heian period (794-1192).
The temple's precincts cover an area of about 6.6 million square meters.
The Yakushido hall, also a designated national treasure, is in the Kami Daigo area, whereas the Sanboin hall, the five-story pagoda and the Kondo hall are in the Shimo-Daigo area.
The pagoda, which also is a national treasure, is the oldest surviving wooden structure in Kyoto Prefecture.
The temple is described by UNESCO as part of the Historic Monuments of Ancient Kyoto.
The garden at Sanboin hall has been designated by the government as a site of scenic beauty and historic interest, and is known as the place where the 16th-century warlord Toyotomi Hideyoshi held a cherry-blossom viewing party.