Prince Charles and Camilla visit Buddhist temple
By Andrew Alderson, The Telegraph, Oct 30, 2008
When he becomes king, he intends to become "defender of faiths" rather than solely the protector of the Church of England

Nara, Japan -- The Prince of Wales, accompanied by his wife, the Duchess of Cornwall, took a close look at Buddhism when he attended one of the world's most famous landmarks in Japan.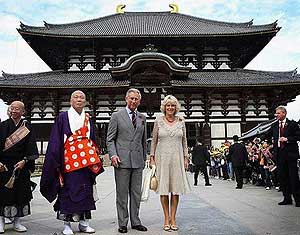 << The Todaiji Temple in Nara is the world's largest wooden building Photo: Getty
The royal couple flew from Tokyo to see the historic Todaiji Temple in Nara. At 169 feet high and 187 feet wide, it is the world's largest wooden building.
The temple, constructed in 752 and set in magnificent parklands, was part of Japan's former capital city - Heijokyo - in the 8th century.
Once inside the temple, the Prince and Duchess spent several minutes gazing in wonder at Japan's largest Buddha statue, Vairocana, which is 49 feet high and can hold five men in the palm of its hand. The statue is 1400 years old and is part of a UNESCO World Heritage Site.
The Prince and the Duchess were shown around the temple by the purple-robed Chief Abbot of the Temple, Dozen Ueno. The couple burned incense at the foot of the shrine.
The Prince, who will become Supreme Governor of the Church of England when he becomes king, has a great interest in faiths other than Christianity.
As Supreme Governor, he has indicated he would prefer to be "defender of faiths" rather than the conventional "defender of the faith".
As the Prince and Duchess were walking towards the temple, he patted one of the hundreds of tame deer that roam the estate.
The royal couple are on a ten-day tour of the Far East to Japan, Brunei and Indonesia. The Prince is determined to promote many of his beliefs, including his campaign to combat climate change and to protect the rainforests.
The Prince, in a grey suit, and the Duchess, in an ivory-coloured dress, also visited the Nara Traditional Crafts Museum. Here the Duchess proved far better than the Prince at writing her name in navy paint on a cream ceramic paint. "Keep dipping!" she instructed him as he struggled to write neatly.
"It's not going to work. It's horrid!" he replied. However, he eventually wrote "Charles 2008" and underlined his name.