Dalai Lama to Stay Quiet on Tibet's Future
By Coco Masters, Time Magazine, Nov 3, 2008
Tokyo, Japan -- After a stunning Oct. 25 announcement in India that he had "given up," the Dalai Lama reiterated during a visit to Japan this weekend that he is losing faith in talks with the Chinese government over Tibet's future.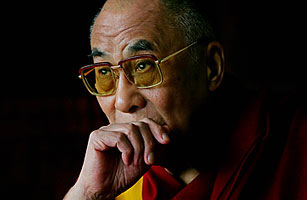 << CARL DE SOUZA / AFP / Getty Images
Having served the Tibetan people for 68 years as their spiritual leader, the Dalai Lama said that the situation for Tibetans is deteriorating, and that Chinese rule in Tibet is "almost like a death sentence." The leader has declared a position of complete neutrality, intending to stay silent on how the Tibetan people should engage with the Chinese government in upcoming talks in Dharamsala and New Delhi.
The Dalai Lama's latest comments come as his representatives, having left for Beijing on Oct. 29, are expected to visit with Chinese officials in the latest dialogue between the Tibetan government-in-exile and Beijing since July. The Dalai Lama did not say when the talks would begin. During a week-long visit to Japan — his first overseas trip since undergoing surgery to remove gall stones in early October — the Dalai Lama is scheduled to meet with Buddhist monks and to speak on spirituality. He will not, however, meet with politicians, as the Japanese government is careful to avoid criticism from China by meeting with the leader, who Beijing accuses of fomenting riots in China and anti-China demonstrations.
The Dalai Lama's government-in-exile, based in Dharamsala, India, has been engaged in talks with China since 2002. He has sought autonomy for Tibet, which is described as a middle ground between Tibet's current status under the People's Republic of China, and full independence. He now, however, views this "middle way" approach as having failed to produce "positive results" and he is therefore changing his course of action — by stepping back. "My trust in the Chinese government has become thinner, thinner, thinner," the Dalai Lama said to reporters on Monday, reiterating statements that he has made over the past week that his faith in Beijing is waning. "I cannot take direct responsibility dealing with the Chinese government," he says. "If I say, 'I think this is better or that is better,' then people may not express freely," he said on Sunday. "Now it's up to the people."
Stepping aside on the political front would allow a younger generation of Tibetans, in whom the Dalai Lama has stated he has confidence, to carry the torch of responsibility for what happens next. The Dalai Lama has said that he wants Tibet to enjoy the prosperity of China, while maintaining Tibetan language and culture. Buddhist monks also want more religious freedom, and one peaceful protest to that end in March in Tibet's capital, Lhasa, caused the city to fall into chaos and violence. There is increasing division among Tibetan monks in terms of what should be done. Some even advocate the use of violence to achieve Tibetan independence — something that the Dalai Lama has never done.
This month, however, there will be many opportunities for discussing what the right way forward may be. The Dalai Lama has called for a special weeklong meeting, starting on Nov. 17 and convened by the government-in-exile in Dharamsala, to discuss how to engage the Chinese government from this point forward. At the end of November, international supporters of the Tibetan cause are also expected to meet in New Delhi.
The Dalai Lama said Sunday that he does not know what will come of the meetings. Now 73, he said he is looking forward to complete retirement. "My retirement is also my human right," he said, laughing during Monday's press conference in Tokyo. "Since 16 years old I carried this responsibility. There should be a limit." And though his negotiating life may be coming to an end, as far as his being Tibet's spiritual leader, the Dalai Lama says that he will remain committed until death.