U.S. priest delivers book on Zen philosophy
by Kenichi Okumura, Daily Yomiuri, Dec 11, 2008
KYOTO, Japan -- A newly published book edited by an American Zen priest who lives in Kyoto provides an in-depth explanation of Zen Buddhism in English.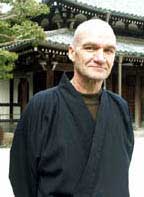 Thomas Kirchner, a 59-year-old associate researcher at the International Research Institute for Zen Buddhism at Hanazono University in Kyoto, spent 10 years working on "The record of Linji," a comprehensive tome supported by extensive footnotes and references.
Linji is a Zen denomination, and is known as Rinzai in Japanese. Kirchner, who lives in a temple in Kyoto, says the record of Linji has been an essential text of Chinese and Japanese Zen Buddhism for nearly a thousand years.
The mammoth task of translating the text into English was actually begun decades ago by Ruth Fuller Sasaki, an American who had been married to legendary Zen master Shigetsu Sasaki.
The couple lived together in the United States, but after Shigetsu's death, Ruth Sasaki moved to Japan in 1949 and began translating the record of Linji with the help of young Japanese and Western scholars.
She died suddenly in 1967, and though the project was nearly completed, progress ground to a halt.
Kirchner was approached by senior priests in 1998 about completing the project. He agreed, and was given about 10 folders of research documents collected by Sasaki.
Kirchner devoted himself to putting the finishing touches to the book, which introduces readers to Buddhist philosophy and Zen history. He says: "The book even explains the relationship between Zen and Chinese Confucianism and Taoism. That kind of background information can help people better understand Zen and Buddhism."
Hundreds of foreigners practice Zen in Japan, Kirchner says, along with thousands more around the world.
"Since many people who are interested in Zen are intelligent and influential, Zen maintains a relatively high profile in the United States and Europe," he says.
Kirchner has practiced Zen himself since first coming to Japan at the age of 20.
"To question who I am has great meaning in my life. I feel my own growth through Zen," he says.
"To be honest, Zen used to be a pain for me, like homework is for students. But now Zen itself is my sole aim in life."
About Thomas Kirchner
Thomas Kirchner, a native of Maryland, went to Japan for a junior-year-abroad program in 1969. In 1971 he entered Shofuku-ji monastery in Kobe as a lay monk and trained there for three years under Yamada Mumon. In 1974 he was ordained and given the name Shaku Yuho. He now serves as caretaker of the Tenryu-ji subtemple Rinsen-ji in Kyoto and works at the International Research Institute for Zen Buddhism at Hanazono University. He has master's degrees in Buddhist studies from Otani University and in education from Temple University (Japan). In September 2003 he participated in the Ninth Spiritual Exchange Program of DIM/MID, spending 10 days at Camaldoli in Italy.