Well-armed to protect Buddha
By MICHAEL DUNN, The Japan Times, May 8, 2009
Nara, Japan -- Like a visitor from some remote part of the universe, the deity Ashura of Kofukuji Temple in Nara appears with six spindly arms frozen in motion and three faces on a single head that is crowned with a perfectly groomed hairdo.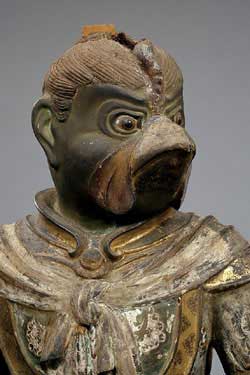 << Standing Karura Figure
Bird eyes: Standing Karura Figure from the Deva of Eight Classes (734 A.D.), a National Treasure from the Nara Period KOFUKUJI TEMPLE
The body is slender and graceful and little imagination is needed to see the numinous figure spring into action like those brilliant deaf Chinese performers who visited Japan last year and amazed all with their synchronized interpretation of the 1,000-armed Kannon bodhisattva.
What are we to make of this extraordinary being? Most religious images represent something — aspired-to ideals or an aspect of doctrine — and in Buddhism, they often have antecedents in Indian Hinduism, just as some Christian saints reveal thinly-veneered attributes of earlier Greek or Egyptian deities.
The Ashura is one of eight deva, deities protecting the Buddha, that derive from even more ancient beings in Hindu mythology, revered for their warriorlike, violent and passionate nature. They rank among the lowest deities in the Buddhist pantheon. Although equipped with amazing supernatural powers, they are still far from enlightenment and the goal of release from death and rebirth.
Yet the faces on the Kofukuji Ashura are disarming with their boyish look of deliberating concentration, the three each slightly different; all seem to challenge us to appraise our own motives rather than threaten us. The Ashura is a beautiful, unforgettable object, all the more remarkable as it dates from the eighth century, barely a couple of hundred years after Buddhism first arrived from Korea. It is a masterpiece born of profound faith and the pious Imperial patronage of its time.
Until June 7, Tokyo will be blessed with an opportunity unprecedented in modern times to see this sublime statue together with other treasures from Kofukuji without the interference of any glass cases or partitions. The installation has been intelligently designed, with the statues illuminated in darkened rooms that invoke an atmosphere of mystery and reverence. In this special exhibition organized to commemorate the 1,300-year anniversary of the temple's establishment, for the first time ever Ashura and accompanying statues of disciples and protectors of the Buddha are being shown outside Kofukuji.
Through its history, the temple has suffered the usual litany of fires and disasters, and it is something of a miracle that these statues have survived. Now the central hall of the temple in Nara will be rebuilt with all the disaster-mitigating technology that architects can provide.
All except one of the eight deva at Kofukuji survived in more-or-less original condition. The exception is an image of Gobujoh, seen wearing splendid headgear in the shape of a wild boar: The statue has had its arms disjointed and is missing most of its body. Together with the 10 statues of Buddha's disciples, they were made on the command of the Empress Komyo (701-760) to commemorate the death of her mother, Tachibana no Michiyo, soon after Kofukuji had been established.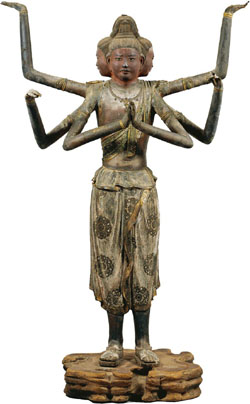 << Standing Ashura Figure
Handsome deva: Standing Ashura Figure (734 A.D.) KOFUKUJI TEMPLE
Religious sculpture had been previously cast in bronze and other metals or carved from wood, but during the eighth century the art of dry lacquer was perfected to make long-lasting images that were light in weight and could be modeled to show fine detailing. The technique involved carving a base image out of clay or wood, on to which sheets of lacquer-soaked material — usually hemp — were applied. When this layer had dried and become rigid, the inner core was removed and the face and costume finished with a layer of gesso then applied pigments and gold leaf.
The eighth century was perhaps the golden age for this technique, as can be seen from the Kofukuji statues. Following centuries saw a predominance of wooden sculpture that was, well, wooden in expression, until the Kamakura Period (1185-1333), when lifelike imagery was seen again — especially in sculptures of famous priests.
Three of the other deva have lifelike expressions, suggesting that they too were copied from or at least inspired by live models. Each have unlined, youthful faces and wear strange headgear: one a coiled snake, another the fanged head of a lion, while the one known as Kinnara reveals just a single horn growing though his hairdo and a split in his forehead indicating the third eye that we see on various Hindu and Buddhist images.
While all the deva are seen wearing the similar protective costumes of Chinese warriors — which still show some of the original painting and gold-leaf decoration — the remaining three display facial features that are markedly different from the others. One has a moustache and beard, and eyes that look strangely too close together; while another, derived according to legend from fierce warriors and animal spirits, has a ferocious grimace and bulging eyes of a truly otherworldly creature.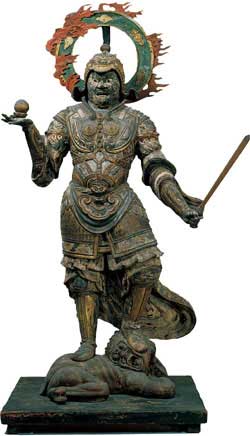 Jikokuten Figure KOFUKUJI TEMPLE
>>
But most striking of all is the beaked deva known as Karura that reminds us of the more familiar Garuda — the emblem of the Indonesian airline and a familiar figure in Balinese performances — that also has ancient, Indian antecedents. This statue shows an ingenious melding of human and avian features with a parrotlike beak in place of a mouth and nose, human ears, hair divided by what looks like an emerging cockscomb, and eyes that could cause viewers to fear they were being considered for lunch.
Buddha's disciples are far more human than the deva and seem to have been modeled after a group of live subjects of different ages, with expressions ranging from the contemplative to some that appear as if in mid- sermon. They are portrayed in simple monks' robes, some of which still show rectangular patches of paint depicting how they were made from scraps of old material.
This exhibition is still drawing overflow crowds but is worth any effort to see. If you can manage it, try getting to the museum at opening time on a weekday when there are fewer visitors. Word has it that teenage girls are falling in love with the Ashura on account of his handsome faces — or maybe his six arms — so holidays are perhaps best avoided.
"The National Treasure Ashura and Masterpieces from Kohfukuji" shows till June 7 at the Tokyo National Museum Heiseikan; admission ¥1,200; open 9:30 a.m.-5 p.m. (closed Mon. & May 7). The show then travels to Kyushu National Museum Fukuoka Prefecture July 14-Sept. 27. For more information, call (03) 5777-8600 or visit
www.tnm.jp