Rap and manga - new roads to Nirvana in Japan
By Kimiko de Freytas-Tamura, AFP, Dec 10, 2009
TOKYO, Japan -- They rap sutras, use manga characters and serve beers -- some of Japan's Buddhist monks are turning to decidedly unorthodox means to boost the appeal of their ancient faith.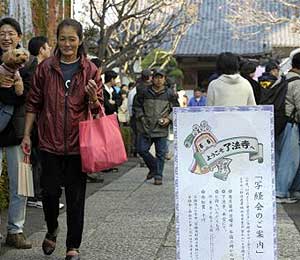 << Buddhism is still Japan's main religion
The new breed of holy men worry that Buddhism is slowly losing its shine as a generation raised in a consumer society turns its back on prayer and seeks solace in material rather than spiritual remedies.
Buddhism is still Japan's main religion, along with the animist Shinto faith, but hundreds of temples have been shuttered and monks say they struggle to be heard above the buzz of modern life.
With prayer beads in one hand and a microphone in another, robed and bespectacled monk "Mr. Happiness" flicked on a boom box one recent afternoon and, under the placid gaze of a Buddha statue, rapped lyrics that roughly translated to this:
"This is a story from a long time ago /
He gets in my dreams, he's my cosmic idol /
Yeah yeah, who ya talkin' about bro? /
I'm talkin' about the Buddha yo."
His lyrics, sung in modern Japanese, are inspired by ancient Sanskrit scriptures about compassion, pain and suffering, said the monk, the latest in a line of family patriarchs to head the 400-year old Kyouyoji Temple.
"There was a lot of controversy when I started this," said the monk, whose real name is Kansho Tagai.
"But I think a monk's role is to spread the teachings through a wide variety of performances. With more than 2,500 years of history, I think we should be able to choose ways to adapt Buddhism to every age.
"Buddhism has the substance ... to respond to people's needs, but monks need to get closer to the people," said Tagai, who on his website describes his temple as "Your Heart's Clinic."
Elsewhere in Tokyo, the suburban Ryohoji temple attracted hundreds of people for last month's autumn festival by drawing on the power of manga comics and the quirky youth cult of Cosplay, or costume-play.
Girls sporting frilly maid uniforms and sets of fluffy cat-ears -- the latest in comic-inspired costuming and usually a more common sight in Tokyo's geeky manga cafes -- greeted visitors to the 16th century temple.
Benzaiten, the goddess of knowledge, music and the arts, was depicted as a doe-eyed cartoon character on a sign at the temple, which also offered short cellphone video downloads of chief monk Shoko Nakazato chanting prayers.
"I came over because this temple has been the talk of the Net," said software programmer Mitsutaka Adachi, 26. "I was a bit surprised to see this, but it's fun. This can motivate people to come here."
Ryohoji's abbot Nakazato, 45, said he is part of the manga generation himself, having grown up on a diet of big-eyed cartoon figures and robo-cats, and sees nothing wrong with using the genre to attract newcomers.
"I have little resistance to manga ... I wanted to tell the people that temples are a fun place to visit," he said.
In another Buddhist temple, monks and nuns have even staged a fashion show to promote the faith, strutting down a catwalk to hip-hop music at Tsukiji Honganji Temple and showcasing their colorful Tokyo Bouz ("monk") Collection.
The fashion-monks from several different sects wore colourful robes and rapped sutras under a shower of confetti shaped like lotus petals.
Yet another monk, hipster Kaku Aoe with a goatee and a shaved head, has organised monthly 'dinners in the dark,' where blindfolded guests play a guessing game about the food but also get a taste of a monk's life.
"There are few opportunities for monks and people to connect," he said during a recent dinner. "Through a fun concept like this, people will be more open and eager to learn about Buddhism."
While some detractors dismiss the monks' business ventures as marketing gimmicks, the debate underscores real worries over the faith's future.
Japan is home to 75,000 temples and 20,000 monks, but hundreds of the religious sites are shuttered each year.
Although temples and religious festivals remain popular, many Japanese see them as tourist magnets that do a roaring trade in lucky charms and expensive funerals but have little connection to their lives.
Others resent the idea of ascetics seeking enlightenment in the comfort of their tax-free temples at a time when a severe recession has caused massive layoffs, a spike in suicides, and worries over a bleak future.
Hoping to take his spiritual message into the earthly realm of the Japanese office worker, another monk has ventured into the inner sanctum of the salaryman, the after-hours beer bar.
Working the counter of a cozy music club one recent night, monk Hogen Natori was serving drinks, yelling orders, joking with customers -- and chanting traditional ancient sutras.
Hogen began performing with two junior monks six years ago, experimenting with jazz and other styles. In the end they decided to stick with the original -- unembellished and ancient chants.
The monks explained their message before dimming the lights. Then, one struck a chime and a hush descended over the 12-seat bar. The trio began to hum in low voices that swelled into chants as candles flickered.
After their performances, the monks engaged the guests in dialogue.
"Japan's youth have very few opportunities to run into Buddhism," Natori said. "They think monks are boring, that they just sit in their temples and say they pray for people without even coming out to listen to them."
Natori is unashamed about his nocturnal forays into Tokyo nightlife in his bid to bring enlightenment to the people.
"We need to actively guide people about how to live," he said. "But we also need to make monks fun ... If they can't come to us, we need to go to them, like a delivery service."