His Holiness the Dalai Lama meets Korean Buddhists in Tokyo
Tibet Custom, June 27 2010
Yokohama, Japan -- Over 500 South Korean Buddhists received an audience with His Holiness the Dalai Lama this afternoon at the the convention hall of the Intercontinental Grand Hotel at Yokohama in Tokyo.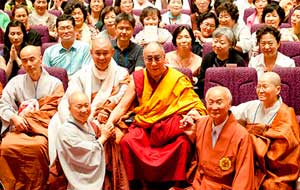 << His Holiness the Dalai Lama with around 500 Korean monks and laity in Yokohama, Japan, on 27 June 2010
His Holiness said traditionally countries like Korea and China are Buddhist and expressed his appreciation for the way the Koreans are seriously engaged in learning more about Buddhism.
He said as common followers of Buddhism, he has always wanted to meet "fellow Buddhists" not only in South Korea but also other Buddhist countries such as Burma and Sri Lanka where he has never been before. "My last visit to Thailand, another Buddhist country, was in the 1960s but after that could not go there again," he said with a soft chuckle.
In his brief talk, he asked the Koreans to be 21st century Buddhists by mastering modern scientific education as well as Buddhism. "Like great masters of the ancient Nalanda University, you must study and examine the Buddhist texts and practice the teachings in your daily life," he said.

Referring to commentaries authored by Nalanda Indian masters, His Holiness stressed the importance of studying Nagarjuna's commentary on the concept of emptiness and Chandakirti's commentary on Nagarjuna's works which is used as the main text by Tibetan Buddhist practitioners in studying emptiness. The latter's work, he said, will be of immense help in understanding Buddhist Dialectics as well. He explained briefly the Buddhist concept of Clear Mind in generating compassion and practicing analytical meditation.
While handing over a gift of Nagarjuna's scroll to a head priest of Korean Buddhists, His Holiness told the audience to become students of great Nalanda masters who had shown that Buddhist practitioners can incorporate scientific approach in their study of Buddha's teachings. "I am 75 but I still study the texts by these great Buddhist professors," he added.