China seeks world heritage status for Buddhist Pagoda
PTI, May 15, 2011
Beijing, China -- China is planning to submit a proposal to UNESCO to include Sakyamuni Pagoda, believed to be the oldest wooden structures in the world, in its list of heritage sites.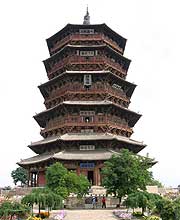 Officials in north China's Shanxi province said today that they would finish the drafting of the proposal by July this year.
The Sakyamuni Pagoda also known as the Yingxian Pagoda. The pagoda with unique architectural, religious and historical values is located at the Fogong (Buddha's Palace) Temple in Shanxi's Yingxian County, 380 km southwest of Beijing.
It was built in 1056 during the Liao Dynasty , which ruled North China from 916 to 1125. China will celebrate the 950th anniversary of the pagoda on Sept. 5.
The Sakyamuni Pagoda was made entirely of wooden parts joined by innumerable mortises and tenons in a complicated structure of brackets, without using any nails. It measures 67.31 meters in height and 30.27 meters in diameter at the base, or the height of a 20-story building today. It is the oldest full-wooden pagoda still standing in China and believed to be the oldest of its kind in the world
It is an octagonal structure of nine stories, with five visible from outside and four hidden inside. The Buddhist statues in each story and paintings on the inner walls of the first story are all works of the Liao Dynasty.
During a renovation of the pagoda in 1974, a number of sutras were found, some hand-written and others block printed. They are important materials for the study of religion and printing technology of the Liao Dynasty, as well as the political, economic and cultural developments of the dynasty.
The government has allocated over 30 million yuan (about USD 4.59 million) to improve the environment surrounding the state-protected pagoda, Zhao Chang, head of the county's cultural relics departmen told state run Xinhua news agency.
The wooden tower has survived several strong earthquakes and wars, although it now has a tilt which is worrying architectural experts. China has about 40 of its famous natural and cultural sites recognised under UNESCO's world heritage convention.