Temples of change
By Cang Wei, China Daily, July 17, 2011
No longer cloistered, Buddhist monasteries now house thriving communities that develop in tandem with the rest of secular China. Cang Wei visits two leading temples and talks to the abbots.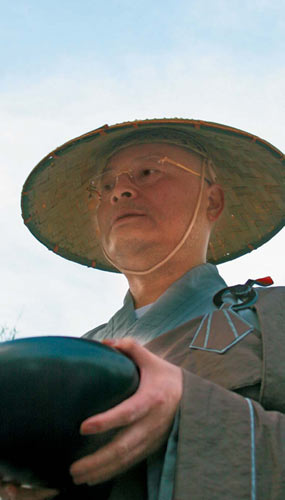 Beijing, China -- It's not easy becoming a Buddhist monk. To gain admission into the Lingyin Monastery at Hangzhou's scenic West Lake, a would-be monk needs to complete four years of seminary studies. Graduation still does not guarantee him a place. He would have to go through a rigorous selection process that includes having a glowing testimonial from the seminary, which will then qualify him for a preliminary interview with senior monks.
<< Master Guangquan, abbot of Hangzhou's Lingyin Temple, thinks the best way to spread Buddhism is through a softer, cultural approach. [Provided to China Daily]
But if he does gain admission, he would be part of a slowly growing community facing daily challenges and changes.
According to Master Shuguang, who heads the Qixia Temple in East China's Jiangsu province, there are more than 2,100 temples in the country and about 250,000 monks, including 70,000 who are ethnic Han and 130,000 Tibetan Buddhist monks.
Almost all the temples have been built or renovated within the last 30 years, says Shuguang. From the 1950s until the late '70s, monks in the temples were either sentenced to prison or forced to return to secular life. Temples were demolished or used as warehouses and schools.
"There was no religion in China at the time," Shuguang says.
The turning point came in 1978, when the Third Plenary Session of the 11th Central Committee of the Communist Party of China put forward policies that once again legalized religion.
Temples in the country were gradually restored in the 1980s, and many Buddhist seminaries were established to nurture a new generation of Buddhist monks and believers.
In today's monasteries, living conditions are much improved. Vegetables of all kinds are sent to the temples regularly and Buddhist robes distributed every year. In fact, life can be so good that some traditions have had to change.
"Cooks in Qixia Temple now make food without oil to prevent fatty liver and other health problems," says Shuguang with a smile.
The monks in Lingyin Temple also enjoy five dishes and a soup every day for lunch and dinner, its abbot Guangquan tells us. Lingyin is the temple with the strict entry requirements, on top of the basic conditions of being above 18 years old and having no physical or mental disabilities.
To gain entry into any temple, a novice has to submit a formal application and live in the temple for about two years practicing and studying Buddhism. He will only be ordained if he still wants to join the order after this.
Although there is a steady number of applications, Guangquan feels there has been no significant increase in monks, novices or believers coming to the temple.
About 3 million people visited the Ling-yin monastery last year, but no one can say for sure how many are true devotees, he says.
The better economy and resulting living conditions may actually be deterrents, and China's one-child policy has directly affected the number of men becoming monks.
While China had 2 to 3 million monks during the Tang Dynasty (AD 618-907) and the Song Dynasty (960-1279), the current number is only a small fraction of that.
Charlatans masquerading as monks blemish the image of Buddhism, Shuguang says. They swindle people using the name of religion and he feels official measures must be strengthened to discipline these delinquents.
Guangquan thinks Buddhism needs to invest more active effort to spread the faith, and he thinks it pales in comparison to Christianity in this aspect. That is why he feels that "instead of waiting in temples, Buddhists should exercise more initiative to provide the people with moral support."
Some Chinese temples have indeed started exploring more aggressive methods, but not all approve of their efforts.
In Central China's Henan province, the world famous Shaolin Temple often makes headlines in the local media because of its "over-commercialization". Under the leadership of its controversial abbot Shi Yongxin, the temple has even set up its own companies, following the social entrepreneurship route.
The abbot also established eight Shaolin temples abroad.
Even within the Buddhist community, opinions are divided. Where head monk Shuguang firmly supports the Shaolin abbot, who he describes as "aggressive and courageous", Lingyin's Guangquan shows a more conservative attitude.
"As a pioneer in the reform of Buddhism in China, the Shaolin abbot can become either a model of courage or be blamed in future," Guangquan hedges.
Under Guangquan's guidance, Lingyin Temple has a totally different approach to the spread of Buddhist teachings. Monks at Lingyin invite believers to their temple to enjoy tea and music. They distribute free food to people in the city on festive days, and once a year, the monks take to the streets with bowls in hand in an annual walk through town to receive alms.
"We are making an effort to spread Buddhism through a cultural approach," the abbot says. "We know Buddhism in China needs innovation, but to date, there is no clear, cohesive direction." And that will be one more item on their daily prayer list.