Tibetan nun dies after setting self on fire in latest protest death
By Tom Lasseter, McClatchy Newspapers, Nov. 4, 2011
BEIJING, China -- A Buddhist nun in China's western Sichuan Province burned herself to death on Thursday, bringing to 11 the number of Tibetan clergy and former clergy who've set themselves on fire since March.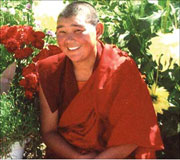 << Palden Choetso
The series of self-immolations, unprecedented in Tibetan Buddhism's modern history, has continued despite an increasingly large Chinese security presence in the predominantly ethnic Tibetan area.
The protests against Chinese government policies — including claims of oppression of Tibetan culture, language and religion — have resulted in official condemnation of what Beijing sees as a conspiracy by exiled Tibetan spiritual leader the Dalai Lama.
The nun, Palden Choetso, shouted "Long live the Dalai Lama" and "Let the Dalai Lama return to Tibet," according to a report relayed to the London-based rights group Free Tibet.
She was the second nun in as many months to set herself on fire in a northern region of Sichuan, which sits on the edge of the Tibetan plateau, and at least the sixth person to die doing so.
China's state-owned Xinhua news agency reacted by reporting that, "initial police investigation showed that the case was masterminded and instigated by the Dalai Lama clique, which had plotted a chain of self-immolations in the past months."
About 35-years-old, according to Xinhua, Palden Choetso was from a nunnery in north Sichuan and reportedly carried out the self-immolation at a road crossing just before 1 p.m. Xinhua listed her identity as Qiu Xiang – a Mandarin Chinese name.