Former monk dies after latest self-immolation protest in Tibet
Associated Press, December 9, 2011
BEIJING, China -- A former Buddhist monk in Tibet has died from burns after he set himself on fire about a week ago, a Tibetan rights group said Friday.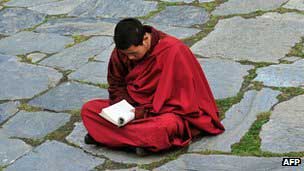 << Rights groups have long criticised China's treatment of Tibetan monks
The India-based Tibetan Center for Human Rights and Democracy said Tenzin Phuntsog, 46, died on Tuesday in a hospital in Tibet's Chamdo region, known in Chinese as Changdu. The group cited sources whom it did not identify by name.
The former monk reportedly set himself on fire near the Karma monastery there on Dec. 1. The rights group says he had distributed leaflets criticizing Chinese rule before he did so.
It was the latest self-immolation protest by Tibetans against Chinese rule. Most of the protesters who have set themselves on fire are calling for Tibetan freedom and the return of their spiritual leader, the Dalai Lama, who fled to India during an abortive uprising against Chinese rule in 1959.
At least 12 monks, nuns and former monks are believed to have now set themselves on fire this year in what are seen as acts of desperation in the face of tightening Chinese controls over Tibetan life and culture. All but the latest occurred in Tibetan areas of China's Sichuan province.
Calls to the county hospital rang unanswered while an official at the Changdu government office, who declined to give his name, said he was not aware of any self-immolations in the region.
China says Tibet has always been part of its territory, but many Tibetans say the Himalayan region was virtually independent for centuries.
Chinese authorities routinely deny Tibetan claims of repression, although they have confirmed some self-immolations and accused supporters of the Dalai Lama of encouraging such acts. The Dalai Lama and representatives of the self-declared Tibetan government-in-exile in India say they oppose all violence.