'Cradle of Chinese Buddhism' embraces world
by Liu Xiangrui and Li Yao, China Daily, Jan 11, 2012
Temple complex to house shrines representing other countries

LUOYANG, Henan -- "It's unusual to see exotic Buddhist buildings at such an ancient Chinese temple. They're so delicate and look so different from the traditional Chinese temples next to them," said Tang Chan, a 22-year-old college student, looking at the Indian shrine at Baima Temple.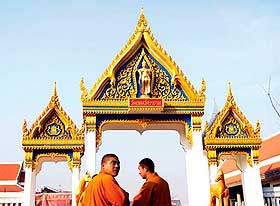 << Two monks from Baima Temple pass a Thai-style shrine on Friday. The temple is planning to build an International Temples Zone featuring 10 exotic shrines from foreign countries. Xiang Mingchao / China Daily
The Baima Temple - White Horse Temple - aspires to be not only the oldest, but also the largest and most international Buddhist temple in China.
Henan province, in Central China, has approved a plan to expand and renovate the temple into a 1,300 mu (87 hectare) cultural park over eight years, the largest in China by then. It currently covers 20 hectares.
The almost 2,000-year-old temple is creating an International Temples Zone to showcase 10 exotic shrines from foreign countries, said Wang Xiaohui, director of the religious affairs bureau in Luoyang, where the temple is located.
The Indian shrine opened in May 2010. A Thai shrine built in the 1990s is being expanded and will open in April.
A Myanmar Buddhist garden will be created in April, Wang said.
"Details were discussed when Myanmar Minister for Religious Affairs Thura U Myint Maung visited Baima Temple and inspected the site on Dec 27."
The minister instructed that the decorative materials, mostly gems, for the golden canopy on the roofs would be shipped from Myanmar, Wang said.
Following the examples of the Indian and Thai gardens, other foreign temples will be funded by foreign governments, enterprises or religious groups, who will also oversee the construction, statue-making and decoration.
When they are completed, Baima Temple monks will manage the gardens.
Several other countries, including Japan, Nepal and Sri Lanka, have shown interest in investing in similar programs, Wang added.
"Baima Temple is widely regarded as 'the cradle of Chinese Buddhism' and has become an ideal place to demonstrate unique Buddhist cultures from different countries," Wang said.
Former Indian prime minister Atal Bihari Vajpayee first proposed the construction of an Indian shrine when he visited the temple in 2003.
Its construction was officially agreed on when Premier Wen Jiabao visited India in 2005.
The 6,000 square meter Indian shrine, created with an investment of 15 million yuan ($2.4 million), is the first temple that India has funded and built in a foreign country, Wang said.
It resembles the revered Buddhist shrines at Sarnath and Sanchi, India, built in 2nd and 3rd centuries BC.
Now a popular spot at Baima Temple, it appears in tourist guides with introductions to its history, architecture and artistic features.
The Thai shrine was built in the 1990s when Thailand donated a statue of Buddha to the temple.
It has expanded from less than 3,000 to more than 10,000 sq m, with an investment of 30 million yuan, mostly from Thai religious groups, Wang said.
"I love this idea. We can get a good look at foreign temples without going abroad," said Li Na, a tourist. But the 36-year-old bank employee from Zhengzhou, capital of Henan province, said she expected more than just fascinating buildings.
"Right now, only the Indian garden is open, and it looks rather empty inside. But it's their cultures that interest me most," she said.
Tang, the tourist, said: "We come here to appreciate not only the architecture, but also the deeper Buddhist messages. Most of us are not familiar with Buddhism in India. Maybe Baima Temple can do more to help visitors learn about foreign Buddhist cultures, inviting monks from abroad to present their Buddhist practices during peak tourist seasons."
With the opening of more foreign gardens, some tourists worry that ticket prices will rise.
"They will stay at the present level, 50 yuan, for a few years, and no extra fees will be charged to enter the International Temples Zone," said Hu Xuanyan, an official from Luoyang religious affairs bureau.
The temple receives about 1 million tourists a year, which brings it an annual income of 20 million yuan.
"The foreign temples are great news for me. People can worship Buddha as is done in different countries - and I believe all the world's Buddhists belong to one family," said Shi Chengjuan, 46, a Buddhist and frequent visitor to Baima Temple.
Zhang Zong, a researcher specializing in Buddhist fine arts at the Chinese Academy of Social Sciences, also welcomed the move to build the International Temples Zone.
"It will be a center of communication among religious groups from different countries. Tourists will gain eye-opening experience and knowledge of the historical ties and development of Buddhism in China, Asia as a whole and beyond," Zhang said.