China: Buddhist temple thrives by extorting offerings
by Lu Na, China.org.cn, January 12, 2012
Temple visitors were outraged by threats of bad fortune when they refused to pay thousands for incenses
Guangxi, China -- Ou Peng, from Guangxi Province, was visiting the Yanquan Temple in Kunming City of Yunnan Province in October 2011. Like most temple-goers, Ou had hoped to make a small offering and pray for his family's health.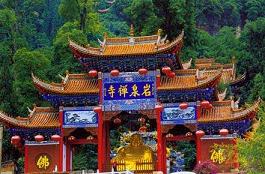 After arriving the temple with his wife and two family relatives with a tourist group, Ou unfortunately found far more than what he had bargained for. Instead of tranquil sessions with temple monks and blessings of a bright future, they were met with threats of bad fortune if they refused to dish out thousands in donation.
"They know I wanted safety for my family, so their attitude was very stern, which make me afraid," Ou said. The monks had demanded that he paid 20,000 yuan (US$3,167) for incenses or his family would be met with disasters. "This was completely like extortion by the mafia."
Although Ou was able to get his money back after he complained to the Kunming Tourism Bureau, not everyone was so lucky. Buddhist temples in recent years have become an enormously profitable business with tourists willing to pay anything to buy and burn incenses for luck. Contractors paid huge fees to the local government for approval to operate temples. They then built shops inside and around them to sell incenses and other trinkets.
After learning of Ou's bitter encounter, a reporter from China Newsweek disguised himself as a tourist and went through similar experiences at the Yanquan Temple. Monks first recommended 600 yuan (US$95) incenses. When the reporter said that he could not afford it, he was offered 200 yuan (US$32) incenses. After the reporter refused again, a monk pointed at the Buddhist effigies and snapped: "Are you going to pay it or not? How dare you lie in front of Buddha? Get out of here."
A source informed the reporter that only one of the monks in the temple was real. Others were hired hands who supposedly were skilled in judging people's wealth by their clothes and appearances. Instead of the salary, they were given a cut of the donations. Most were married and had cars and house in Kunming.
In July 2001, the Jinxing Village administrative committee signed a contract with Kunming South International Travel Agency to develop the tourism business for the temple. It received over 200,000 tourists that year and turned over 2 million yuan (US$316,756) in profit.
The annual tourism revenue of Yunnan Province reached 22.63 billion yuan (US$3.6 billion) in 2009, and the number of tourists reached 31.15 million. Following the rapid development of tourism in the province, the contract fee of the temple also increased dramatically. An insider told China Newsweek reporter that a businessman from Hunan Province spent 7.2 million yuan (US$1.1 million) per year in order to run the temple.
However, the money tree has begun bearing troubled fruit. A staff from the Kunming City Travel Agency Association said that the agency was getting daily complaint calls about the offering demands. Although they asked travel agencies to remove the Yanquan Temple from their itineraries, none followed after the temple increased agencies' share from 30 percent to 50 percent.
The central government has made several attempts at stopping religious institutes from becoming business entities. The State Administration for Religious Affairs released regulations in 1993 forbidding temples to sell stocks and establishing business partnerships with foreign companies. And in June 2009, the National Tourism Administration published regulations to forbid religious tourism spots from forcing or inducing visitors to pay money to burn the incenses.
However, these business-temples have been a heaven-sent for rural villages. Some schools use the proceeds to exempt tuition and fees from students and provide them free breakfast and clothing. Other villagers also receive various kinds of welfare. These were the potential benefits that led to Yiliang County's October 2010 meeting to invite contractors to run Yanyuan Temple.
Ma Kaineng, deputy director of Yunnan Provincial Bureau of Religious Affairs said that due to historical reasons, many temples belong to different government departments. Yanquan Temple belongs to the religious bureau as well as the tourist bureau and is managed by Jinxing Village. Tourists who complain about the temple are therefore often given the bureaucratic runaround and find it too difficult to solve their problems.
The small penalty also contributes to the growing problem. Zhang Shaoyun, director of Yiliang County's tourism bureau said that contractors are only fined in the thousands of yuan for their offenses – a puny amount compared to their profits.
Ye Tao, researcher from the Chinese Academy of Social Sciences, said the solution to this problem requires the cooperation of local government, cultural relics department, religious department and tourism department.