Tibetan nun self-immolates: rights groups
AFP, Feb 13 2012
Beijing, China -- An 18-year-old nun set herself on fire in China's restive southwest and later died, rights groups said Sunday, the latest in a spate of such incidents among ethnic Tibetans protesting Beijing's rule.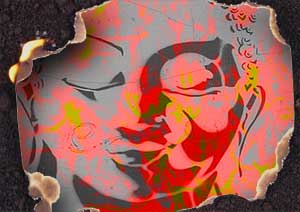 The woman -- a member of a Buddhist nunnery in Aba prefecture in China's Sichuan province, which borders Tibet -- set herself alight on Saturday evening, Free Tibet and the International Campaign for Tibet said.
This brings to at least 19 the number of people who have set themselves on fire in the past year in Tibetan-inhabited areas in protest over Chinese rule.
Rights groups say another three Tibetans self-immolated earlier this month in a remote village of Sichuan. However, local authorities quoted in the official Global Times newspaper have denied that account.
The nun from the Mamae nunnery shouted out slogans of protest against the Chinese government before setting herself alight, the rights groups said in statements.
She is believed to have died, London-based Free Tibet said. Her name was given by the groups as Tenzin Choedron, or Choedon.
Soldiers and police quickly took her away, still alive, and later sealed off the nunnery, the groups said.
Free Tibet also said she was the second nun from Mamae to set herself on fire, following another who died in October last year.
A police officer in Aba declined to comment. "I am not clear (about this)," the official, who declined to be named, told AFP. Calls to the local Aba government went unanswered.
China has stepped up security in Tibet and areas inhabited by ethnic Tibetans following a series of protests against Chinese rule, some of which have turned violent.
Security has also been tightened before March, the anniversary of anti-Chinese protests in 2008 which started in the Tibetan capital Lhasa before spreading to other areas.
At least two people were killed last month in clashes between police and locals in Sichuan, which has large populations of ethnic Tibetans, many of whom complain of oppression.
Security forces on Thursday shot dead two Tibetan brothers who were on the run after protesting against Chinese rule, according to US-based broadcaster Radio Free Asia.
Beijing has accused overseas organisations of seeking independence for Tibet and blamed the Dalai Lama -- Tibet's exiled spiritual leader -- for the unrest.
Tibetans have long chafed under China's rule over the vast Tibetan plateau, accusing Beijing of curbing religious freedoms and eroding their culture and language, and these tensions have intensified over the past year.
But Beijing insists that Tibetans enjoy religious freedom and have benefited from improved living standards brought by China's economic expansion.
Following the violent incidents Chinese Prime Minister Wen Jiabao on Friday pledged religious freedom and cultural protection in Tibet.
"We will place more importance on improving the lives of our Tibetan compatriots... and in preserving the freedom of religious belief of Tibetans," he said.
Free Tibet called on the international community to do more.
"A handful of carefully crafted statements is no longer enough -- now is the time for concerted international action," the group said in the statement.
The United States said Friday it would raise concerns about human rights among other issues during a closely watched visit in the coming week by Chinese Vice President Xi Jinping, likely the country's next leader.
"It is an area of grave concern for us to witness the increase of tensions in Tibet and Xinjiang," said Danny Russel, US President Barack Obama's top adviser on Asia.
The northwest region of Xinjiang is home to another ethnic group, Muslim Uighurs, who have also staged violent protests against Chinese rule.