Famed temple faces safety woes
East Day, March 1, 2012
Shanghai, China -- A 130-year-old famous Buddhist temple in downtown Shanghai faces alarming safety hazards due to growing termite damage, aging structures and land subsidence caused by the building of nearby high-rises.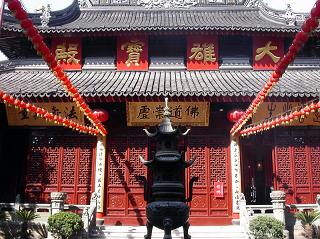 << Jade Temple in Shanghai
Reconstruction efforts are under way, aiming to fix the safety risks and consolidate the temple structures. City officials said yesterday the government is reviewing the revamp plan for the Jade Buddha Temple in Putuo District, submitted by the temple authority and engineering experts.
The temple was founded in 1882 during the Qing Dynasty (1640-1911) with two jade Buddha statues imported to Shanghai from Myanmar by sea. It not only attracts busy traffic from Chinese visitors but is also internationally famous.
But the temple, with its narrowly spaced buildings, faces growing safety risks of fire and other accidents, according to the temple abbot, Jue Xing. All the temple buildings are made of wood and brick, making them vulnerable to fire. And the old temple was built with such narrow spaces that it did not have any fire-escape designs. With burning joss sticks and lighting candles the major way to pray among people inside Buddhist temples, the fire risk is exacerbated.
The abbot expressed deep worries at a recent forum.
"On New Year's Eve and New Year's Day as big crowds came in to pray and wish for good luck, traffic hit about 100,000 people," he said, adding that the crowds have always caused the district police to send out 70 to 80 officers just to keep order on New Year's Eve.
A report by local Architecture Quality Exam Station also showed the buildings inside the temple are troubled by serious and deteriorating termite damage as well as cracks and tilting structures. Some pillars inside the Chamber of Four Heavenly Kings, for example, have been detected tilting beyond the safety standard.
The temple has already started restricting daily traffic to visit the Jade Buddha Chamber, but that building also is tilting, the report said.