Monks guide temple toward a new image
Eastday, March 26, 2012
Beijing, China -- As the old saying goes, "Change comes from within."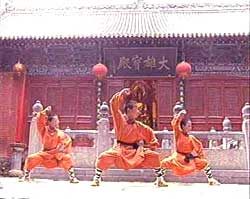 It is a message that is being embraced at the Shaolin Temple, where resident monks are striving to improve the holy site's image after a storm of criticism last year.
Since February, at least 20 monks at China's most famous Buddhist monastery have been working as free guides for tourists.
Among them are graduates from Buddhist colleges, and each one has received two weeks of training, said Zheng Shumin, the temple's publicity director.
"It's an honor to introduce the temple's glorious history to visitors," Yan Xin, a monk in his 20s, said on March 17.
He had already led two groups that afternoon, during which he interpreted ancient poems engraved in stone tablets, and told stories about the many calligraphy and painting works.
"I practice martial arts every day and keep in good physical shape, so I don't feel tired," he said.
The free tour guide service was set up after a public relations crisis in December, when the temple was criticized by the National Tourism Association for its poor conditions and services.
The association said its inspectors had found disorderly parking facilities, an abundance of over-bearing souvenir sellers, as well as many people dressed like monks offering fortune-telling services or products.
After the criticism, People's Daily reported that police in Dengfeng had detained more than 63 people for violating tourism regulations, while four employees of the Shaolin Temple were dismissed. Ten tourist guides were also suspended.
However, Zheng said that the new guide service simply extended the temple's practice of asking monks to lead groups when important figures visited or during major Buddhism events.
Yang Chaofei, a college student who was led by Yan, said his guide had made his trip unforgettable.
"The monks are very patient, and their introductions always enlighten me because I believe in the Buddhist religion," he said. "It was a totally different feeling compared with the guides used by most commercial tourism companies."
Yang said the service had improved his impression of the Shaolin Temple, adding that he believes it will "shorten the distance between the monks and the public".
Despite praise from visitors, some remained skeptical that the guide service was really free, largely due to the fact that in the past they had encountered people dressed like monks who were trying to charge fees.
"The monks say the service is free, but I'm afraid they will charge us at the end of the tour, or try to get us to buy souvenirs," said Ren Juan, 43, who was visiting with her friends.
"We don't want to ruin the experience by having conflicts with monks."
A public bus driver who did not want to be identified said the number of complaints from tourists and city residents about the Shaolin Temple have greatly reduced since the warning from the tourism authorities.
"Compared with the past, the Shaolin Temple appears to have developed a completely different image in recent months," he said. "The city government has kept a close watch for any illegal or disorderly activity."