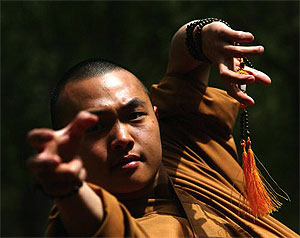 Master Yanpei, 29, a 2005 computer science graduate from Chongqing University, became an acolyte in 2006 at the 1,500-year-old Buddhist temple after becoming disillusioned with his previous place of employment.
With support from Abbot Shi Yongxin, he went to the Buddhist Academy of China to further his study of Buddhism theory in 2007. Now he is a personal assistant to the abbot and a potential candidate to take up his mantle.
"I learned knowledge from college and gained an understanding of life from the Buddhist academy," he said. "The combination creates wisdom."
Master Yanti, a 28-year-old monk studying at the temple, has fused his own studies of Buddhism and martial arts with more disparate fields, such as psychology and English.
The man started his martial arts studies at the age of 16, leaving his school for the Shaolin Temple, the birthplace of Chinese kungfu, just two years later. Yanti became a formal "fighting monk" in 2004, demonstrating his skills in countries around the world before returning to his studies.
Yanti studied at Nanjing University and Buddhist College Singapore in 2008 and 2009, respectively, supplanting his study of Buddhist theory with classes on calligraphy and sociology.
"Overseas study allows me to teach the essence of Chinese Buddhism to our western trainees, "he said.
He now teaches martial arts to 20 Italians who came to the temple after applying at the Shaolin Culture Center in Italy.
The Shaolin Temple has more than 40 overseas culture centers, mainly in Europe and the United States. The centers, as well as the practice of sending its monks to study foreign languages and religious theories, is just another way in which the temple has attempted to expand its reach globally.
"Training the monks is a tradition of Shaolin Temple," said 47-year-old Abbot Shi Yongxin.
"Overseas training is good for the inheritance and development of Buddhism in a globalized world," Shi said.
Only by broadening their knowledge and vision can Buddhists communicate well with their followers, he said.
Shi said more than 40 Shaolin monks are currently pursuing degrees at institutes of higher education both home and abroad, adding that every monk who wishes to study can be sponsored.
More than half of the temple's 300 registered monks were born after 1980. The younger monks are more educated and more likely to embrace the modern world, Shi said.
Master Yanzheng, a 27-year-old monk who dropped out of an economics program at Anhui Normal University in 2001, might be the temple's most studious monk. After studying for five years at Buddhist College Singapore, he was able to achieve a high score on his IELTS (International English Language Testing System) exam. He plans to go to the University of Hong Kong to complete a master's degree in religion.
"The era of sitting in meditation by the light of an oil lamp has gone. We need to keep pace with the times," said Yanzheng, iPhone in hand.
Yanzheng opened a Facebook account in 2006 in Singapore and his own Chinese microblogging account last year.
"The Internet is a good tool with which to disseminate Buddhism," he said.
"If we are not well educated and do not know what's going on in the world, how can we preach to our followers?" he said.