Another tragic self-immolation has occurred in Tibet
by HAROLD MANDE, The Examiner, March 16, 2013
Dharmsala, India -- The tensions in Tibet have continued on a daily basis with another self-immolation having occurred. On March 16, 2013, Phayul.com has reported, "Breaking: Kirti monk marks March 16 with self-immolation, Toll rises to 108". At the anniversary of five years since the 2008 peaceful protests in Tibet, a Tibetan monk in Ngaba region of eastern Tibet has become the 108th Tibetan living under China's rule to self-immolate.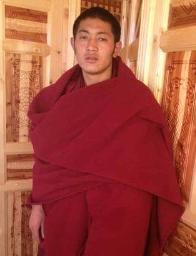 << Lobsang Thokmey
Lobsang Thokmey, 28, a monk from the Kirti Monastery, set himself on fire today at around 2:40 pm local time. Lobsang Thokmey passed away during his protest.
The Dharamshala based Kirti Monastery has said Lobsang Thokmey doused his body with kerosene in front of his monastic quarters in the west of the Kirti Monastery and than he started running towards the east.
The Kirti Monastery said in a news release, "Lobsang Thokmey was in flames as he began running with the Buddhist flag in his hands. Before he could reach the main gate, he fell on the ground."
Lobsang Thokmey was carried to the local hospital by monks and other people gathered at the scene of his lethal protest. Shortly thereafter he succumbed to his injuries. The Kirti Monastetry source said, "A large number of Chinese security personnel arrived at the hospital soon after Lobsang Thokmey was admitted and later forcibly took away the deceased's body to the regional headquarters of Barkham."
Lobsang Thokmey became a monk at the Kirti Monastery at a young age and had a reputation for having had excellent conduct and he was extremely diligent in his studies.