A Charity Aims to Bring Buddhist Studies Into the Modern World
By YENNI KWOK, New York Times, July 29, 2013
HONG KONG, China -- Robert Y.C. Ho, a scion of a historic Hong Kong family, is the chairman of the Robert H. N. Ho Family Foundation, which supports study in the fields of Buddhism, Chinese art and culture. The charity is named after Mr. Ho's father, who founded it in 2005.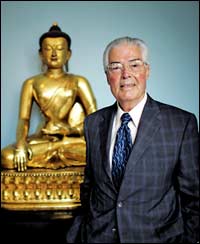 It has given endowments for Buddhist programs at Harvard University, Stanford University and the Courtauld Institute of Art in London. In May, it gave a $1.9 million grant to the American Council of Learned Societies for the research and teaching of Buddhist studies.
Why did your father decide to focus on Buddhism?
Buddhism was easier because his grandmother, Lady Clara, set up a temple in Hong Kong, Tung Lin Kok Yuen, in 1935 — it later grew to two charity organizations, in Hong Kong and Canada — and there's a school associated with it. So Buddhism has been part of the family.
We also support Chinese art and culture because my father, who grew up in Hong Kong, appreciates Chinese arts — classical, traditional and contemporary.
Buddhist studies are usually associated with history. How do you make them relevant to today?
Generally speaking, Buddhist studies in higher institutions have been archaic and old-fashioned, in the sense that it's mostly text-based, where we have scholars who are experts in Pali, Sanskrit, classical Chinese, Japanese, old languages. They read these texts and they talk about them. A lot of time, it's not really related to what happens in the real world.
But a lot of younger scholars are pushing into new areas, like studying about Buddhism and politics, Buddhism and the environment, conflict resolution, Buddhism and psychology, things like that, and how they manifest in the world. Most of our grants are geared toward the area, which is Buddhism in the contemporary world. This is the area we want to push, to advance the field, to make it relevant to the contemporary audiences.
Why do you work largely with universities and institutions in the West, as opposed to in China or other parts of Asia?
We're looking for the right partner, the right institution. The standard of scholarship is traditionally, at least in the modern and contemporary era, much higher in North America and the West, so there's a practical consideration.
We're looking into working in China, but they're all state-funded institutions. That makes it tricky to find a partner.
Southeast Asia is another story. For example, in Thailand and Sri Lanka, they have a category of institutions called Buddhist universities, and they study Buddhism in a traditional way. They take their model back from India in the Middle Ages: They have a big monastery and next to the monastery, they would have a university where they'd teach Buddhist scholarship from a traditional point of view. That's not what we're looking for.
Through Tung Ling Kok Yuen in Hong Kong, we helped set up the Buddhist Studies Center at Hong Kong University — it was before we started the family foundation. After we've started the foundation, most of our grants for Buddhist-related areas are mostly through the foundation.
In Hong Kong, where the foundation is based, you seem to focus on arts and culture education. Why is that?
With Hong Kong being mostly Chinese, we see the program as under the umbrella of Chinese art and culture. It's a basic belief that arts and creativity are part of a human being and the human psyche — that is important to make a person well-rounded, and to have some exposure to that is very important. It's important not only to individuals but also to a healthy society.
The government has some initiatives to try to make Hong Kong a culture or art hub.
They are putting a lot of effort in the hardware. That's good, that's an important part of it, but you also need the audience.
The software is the education program, so that people who go to art events can appreciate, talk about and criticize them. You need that aspect. What we are trying to do is a small bit, but we believe if Hong Kong wants to be a world city, it needs this component.