Malaysia Flight MH370: Buddhist Volunteers Aiding Anxious Families in Beijing
By BREE FENG AND KEITH BRADSHER, New York Times, March 13, 2014
Beijing, China -- At one end of the room, Malaysia Airlines employees delivered the latest briefing to relatives and friends of passengers who were aboard the airline's missing Flight 370. At the other end, volunteers listened from behind tables piled with snacks, waiting to provide counseling, logistical assistance or just hand holding.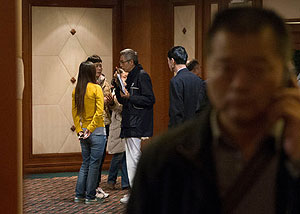 << A volunteer with the Tzu Chi Foundation, center, spoke with relatives of passengers on Malaysia Airlines Flight 370 at the Metropark Lido Hotel in Beijing.
The volunteers were from the Tzu Chi Foundation, a Buddhist charitable organization headquartered in Taiwan. The volunteers, requested by Malaysia Airlines because the airline feared it did not have enough Chinese-speaking staff, arrived at the Beijing hotel where families were lodged by 5 p.m. Saturday, hours after the flight was declared missing.
Tzu Chi is well placed to offer help. Founded in 1966 by a Buddhist nun, Cheng Yen, the foundation now has 372 offices worldwide. It runs hospitals, a medical school and even its own cable television channel. But the foundation is becoming best known for its relief operations in more than 80 countries, including aid to Hurricane Sandy victims in the New York area two years ago and for survivors of the devastating earthquake in the southwestern Chinese province of Sichuan in 2008.
Although several foreign charities have set up unregistered or semi-authorized operations in China, or must register with the Commerce Ministry as businesses, in 2010, Tzu Chi became the first overseas, faith-based N.G.O. to receive permission from the Chinese Ministry of Civil Affairs to set up an office. The organization enjoys a remarkable degree of respect from China's officially atheist government for its charity work, though it is not allowed to proselytize.
On this day in the ballroom of the Metropark Lido Hotel, transformed into both waiting room and crisis management center after the flight's disappearance, Tzu Chi volunteers dressed in navy zip-up jackets and neat white trousers made their way between groups of seated family members — offering hot tea, snacks or uplifting words.
Zeng Yunji, a veteran volunteer, said their approach was to encourage people not to think negatively and to stay as peaceful in their hearts as possible. "You're still waiting for news either way," she said in an interview. "So why must we think towards the negative?"
A native of Taiwan, Ms. Zeng joined the foundation more than a decade ago and now lives in Beijing. With experience in other relief operations, including the 2008 Sichuan earthquake, she serves as an unofficial leader of the 53 volunteers at the hotel. Although most of the volunteers are from Tzu Chi branches on the Chinese mainland, about 15 flew in from Malaysia. Most are covering their own expenses.
The volunteers are not, for the most part, licensed counselors. But Ms. Zeng said that the foundation provided training in how to provide support, as well as how volunteers can deal with their own stress.
Aside from offering emotional support, she added that a "very important" task of the volunteers was to ensure that people remembered to take care of themselves physically. "Your spirit has already been defeated, so afterwards you don't have the ability to eat or drink normally," she said. So volunteers are "constantly offering food or water" and reminding people to eat regular meals.
But keeping up spirits can be a daunting task as the likelihood of finding survivors dwindles. When Malaysia Airlines employees cautioned on Sunday that families should "be prepared for the worst," relatives became very distressed, said another volunteer, who only gave his surname, Li. Some fainted, banged their heads on the wall or said they wanted to die, he said.
The volunteers have also been serving as interpreters and helping families apply for passports and visas to travel to Malaysia. They also try to reduce tensions between airline officials and family members.
On Monday, Mr. Li and other volunteers calmed down a man from Shandong Province who felt he had been slighted by airline officials. He stood on a chair and began "throwing water bottles and other objects." His complaint was that his family of seven had received only four food vouchers, and he thought this meant the Malaysians "looked down on them," Mr. Li said.
By Tuesday afternoon, the mood was more subdued. That morning, many family members had departed for Kuala Lumpur on flights organized by Malaysia Airlines. For those left behind in Beijing, there was little to do but wait for news.
Ms. Zeng said she was not sure what the services at the hotel were costing the foundation, but this was not a factor. "We will be here as long as we are needed," she said.
The lost Malaysia Airlines jet is just one of a series of recent cases in which Tzu Chi has offered aid. It was also the most visible group helping survivors after Typhoon Haiyan struck the central Philippines last November.
Tecson John Lim, the city administrator of Tacloban, the Leyte Province capital that was devastated by the typhoon, said that out of 50 dump trucks that were removing debris after the storm, two were from the United Nations Development Program, three were from the national government, six were from city agencies and the Red Cross — and 39 were from Tzu Chi. Using money raised by volunteers in 46 countries, the Buddhist group rented the trucks in Cebu, the biggest city in the central Philippines, and had them transported to Tacloban, on a different island.
The foundation's work in Tacloban was sometimes controversial. Tzu Chi set up a "cash for work" program to clean up neighborhoods, offering 500 pesos, or $11.25, a day to anyone who signed up in the morning, agreed to spend the day cleaning up a neighborhood and returned in the evening to collect the money.
The program was in line with the belief of many international development experts that one of the best ways to help survivors of disasters is to distribute cash, and then let them figure out how to find entrepreneurs who may start bringing in food and other supplies to supplement relief aid distributions.
But the Tzu Chi program was so generous that thousands of people thronged major intersections each morning to sign up and each evening to collect the money, blocking or delaying traffic. Jerry T. Yaokasin, the deputy mayor of Tacloban, said that many business leaders were upset that employees did not return to their jobs more quickly after the storm because they were joining the Tzu Chi relief effort. The minimum daily wage in Tacloban is 257 pesos.
Mr. Yaokasin said that while many had indeed worked for their money from Tzu Chi, others signed up for cleanup duty, then joined hours-long lines at midday for government relief goods and picked up money from Tzu Chi anyway at the end of the day. "There were some who really took advantage of them," he said.
Jiren Tan, an international charity staff officer at the foundation's headquarters in Hualien, Taiwan, said that the main goal in the Philippines was to distribute money and that the cleanup was secondary. "We are not focusing on the efficiency," he said. "Our major purpose is to give them cash and help them return to their normal lives."