Glimpses of life at Famen Temple Buddhist Institute
by Han Bin, CCTV.com, Oct 15, 2014
Shaanxi, China -- Famen Temple in Shaanxi Province, is not only known for housing what's believed to be a fingerbone of Sakyamuni, but also for its Buddhist Institute. The institute is one of China's most influential in the sector. In the past decade, it has educated over 200 students.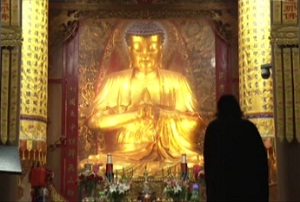 The sound of the Buddha's call. A reminder of the traditional monastic life. It's always chimed 108 times at Famen Temple. Here, disciplined is strictly observed.
Morning begins with an hour's chanting of sutras. This different way of life could be difficult for outsiders. Life is simple, but it's not easy. They live in a contemporary world, but their spiritual world is beyond the material.
Even eating is done in silence. The precepts and environment are aimed at fostering enlightenment. That's why the Buddhist Institute has found its place here.
Monk Heng Jing is in his first year. He says the study has strengthened his belief, and even changed his understanding of Buddhism.
"Without the Buddhist college study, I cannot get even close to the real meanings of the Buddhist doctrines. With our teachers' guidance, I find Buddhism learning can be very enlightening," he said.
Heng Jing is determined to keep on studying till he reaches the highest level. Meditation is part of the daily routine. It's way to change the original self, by letting go of all anxieties.
In Buddhism, happiness depends not on material gain, but on eliminating desire.
Teacher Guo Ding, says Buddhist thinking is philosophical. But all doctrines lead to 3 precepts: do no evil, do more good, and save all beings.
Master Xian Kong says study focuses on sutras, precepts and thinking, as well as social politics, traditional Chinese and English.
"The Institute has a sacred mission to cultivate Buddhist leaders. Whether Buddhism will be widely promoted in the country, will depend not only on how many people believe, but also the number of Buddhist elites, who keep the traditional values, and promote Buddhism in a changing world," he said.
Xian Kong says the effect of Buddhist education is not measured by the scale, but rather by the real quality of study.
China has over a dozen Buddhist colleges across the country. It is also sending Buddhist monks and nuns to study abroad. As modernity integrates into the traditional Buddhist life, many believe the Buddhist education needs to keep up with the times, to cultivate Buddhist talents, and gain much influence in society.