Zen and the art of moneymaking
The Economist, Jun 27 2015
Local officials make a packet from a religion of self-denial
Beijing, China -- THE white steel lady overlooking the South China Sea has three heads, three bodies and toenails bigger than human heads. Guanyin, the Buddhist goddess of mercy, stands atop a temple on a man-made islet, each of her heads facing a different way.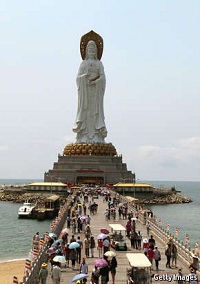 Her public-relations staff call the six-year task of putting her there, in the resort town of Sanya on tropical Hainan island, "the number one statue-project in China". The structure's height, at 108 metres, was intended to be auspicious: Buddhists consider the number sacred.
Good fortune was certainly on the minds of local officials when they approved the project, in which the local government has a share. It was intended to be a money-spinner. It costs 60 yuan ($9.66) just to get in the lift that whisks visitors up to pray at those giant feet.
That is on top of 126 yuan to enter the Nanshan Cultural Tourism Zone with its Auspicious Garden, Temple of 33 Guanyins and colourful Dharma Door of Non-Duality with its 94,000 portals. Guanyin is clearly not intended as a magnet for the faithful who have given up worldly possessions.
Visitors are gouged without compassion, even having to pay for tassels "blessed" by souvenir salespeople. Gift stores are everywhere, selling knick-knacks such as prayer beads and Buddhist statuary. For visitors who want to sleep in the presence of Guanyin, a room at the site's hotel can cost more than $280.
Cheni Foo, a tourist from Copenhagen, surveys the goddess from a boardwalk connecting the islet with the shore. She wrinkles her nose and says she has seen enough. "For me, it's a little bit too fake. It's built for the purpose of tourists." Ms Foo is right. Buddhism is big business in China.
In the 1980s the government, which once preached the evils of faith in anything but the Communist Party, began loosening restrictions on the building or restoration of temples - most of which had been damaged or destroyed by Maoist mobs during the Cultural Revolution. New shrines sprang up everywhere, most of them small and discreet. In recent years, however, domestic tourism has boomed, as has curiosity about once-banned religions. Local officials have smelled a moneymaking opportunity.
In 2008 China completed what was described as the world's biggest statue - the 128-metre Spring Temple Buddha in the central province of Henan. The company that built Hong Kong's 34-metre-tall Tian Tan Buddha on Lantau Island and Sanya's Guanyin has been working on erecting ten more mega-Buddhas around the country.
The government in Gansu province, in the north-west, hopes to create a theme park linking the historic Mogao Caves in Dunhuang (home to remarkably unscathed thousand-year-old Buddhist frescoes) with the sand dunes of a nearby tourist attraction. It wants to sprinkle the desert strip with fake temples and folk villages.
China's Buddhism business is also going global. The faith's most famous commercial site, Shaolin Temple in Henan, which is renowned for its kung fu-trained monks, plans to build a $297m, 500-bed hotel complex and temple - including a martial-arts academy and a 27-hole golf course - in Australia. Tibetan Buddhist temples have been more reserved, however. The government still treats those as highly sensitive religious sites. Chinese and foreign tourists are drawn to them as well - but the complexes are kept under close observation by security cameras and plainclothes police.
Even in non-Tibetan areas of China, some Buddhists are riled by the commercialisation of their faith. At Famen Temple in the northern province of Shaanxi, which houses a finger-bone relic of Buddha, monks protested in 2009 against both an increase in entrance fees and the construction of a wall that would have restricted their access to their temple's door, says Francesca Tarocco of New York University. Last year seven monasteries in Jizu Shan in the south-western province of Yunnan reportedly closed their gates to visitors, incensed that a developer wanted to charge an entrance fee. "Religion is for practice. It's not for show," says Xue Yu, a former monk who is now director of Buddhist Studies at the Chinese University of Hong Kong.
While many tourists are dazzled by the glitz and mystique of China's ersatz temples, some carp about extortionate prices. Visitors to the Guanyin statue in Sanya, however, are allowed one small concession by the park's operators: incense joss-sticks are free.