Chinese Buddhist sect leader sentenced to life in prison
UCA News, November 2, 2015
Move comes amid wider crackdown on religious freedom
Beijing, China -- A Chinese court has sentenced a leader of a Buddhist sect to life in prison on charges of leading a cult, rape and fraud in the latest case to target the leader of a fringe religious group amid a wider crackdown on religious freedom.
Wu Zeheng was sentenced by a court in the southern city of Zhuhai Oct. 30 following a probe into his Buddhist group Huazeng Zongmen, whose leading members were detained in simultaneous raids by armed police in July 2014. The group, which reportedly included millions of Chinese members, has effectively been banned by authorities.
"Wu has been propagating the pseudo-religion Huazeng Zongmen as a lofty sect of Buddhism and claimed to be the successor of several eminent monks," China's official news agency Xinhua reported Nov. 1.
Amid lurid accusations in Chinese media, charges against Wu included tricking women into having sex with him at luxury residences in southern China. His sentence included a fine of 7.15 million yuan (US$1.13 million).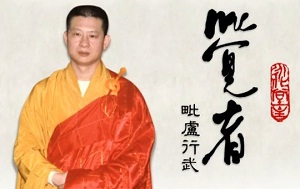 << Ven Wu Zeheng
Wu's case proved divisive with authorities accusing him of illegal excesses built around his fame as a religious leader, while critics including rights groups and lawyers say he was targeted because of opposition to Beijing amid a wider crackdown on religion.
Wu has spent more than a decade in detention since 1999 when he sent a letter to then-president Jiang Zemin and premier Zhu Rongji criticizing rights violations against religions in China. At the time, Beijing launched a crackdown against Falun Gong, which led to thousands of arrests, torture and alleged extrajudicial killings by authorities.
Later the same year, Wu was found guilty of economic crimes — a common charge against people who have fallen afoul of China's communist leaders — and sentenced to 11 years in prison.
Jared Genser, an international attorney who has represented Myanmar's opposition leader Aung San Suu Kyi, acted as Wu's international legal counsel following his recent arrest. Genser reported the case to the U.N. Working Group on Arbitrary Detention with little result.
"We requested it investigate whether (Wu) and his followers are being detained in violation of China's obligations under international law to protect religious freedom," Genser wrote in an editorial published in the Wall Street Journal in March.
Since the sentence was announced, Genser has not made any public statements and was not available for comment.
A month before Wu's trial began in July, Chinese lawmakers began discussing a change to the law that would increase the maximum term for organizing a cult from 15 years to life imprisonment amid a crackdown on cult activity.
Authorities have sought to curb fringe religious activity after members of the banned Christian group Church of Almighty God beat a woman to death in a McDonald's restaurant in Shandong province in May 2014, sparking an outcry in China. Father and daughter Zhang Lidong and Zhang Fan were sentenced to death for the killing.
Last year, Chinese police arrested an estimated 20,000 "heretics," according to the U.S.-based Christian rights group China Aid, which accused Beijing of conflating cults with legitimate religious activity.