Tibetan Buddhist abbot released from Chinese prison under surveillance
The Buddhist Channel, July 22, 2016
Beijing, China -- Free Tibet has confirmed that on 4 June, Tibetan abbot and teacher Khenpo Kartse (also known as Karma Tsewang – Khenpo is a religious title) was released from prison in Chengdu, Sichuan Province, after completing his two-and-a-half year prison term. Khenpo Kartse was arrested in December 2013 and reportedly convicted for harbouring fugitives. His case had been raised repeatedly by governments, lawmakers, Tibet NGOs and international human rights organisations.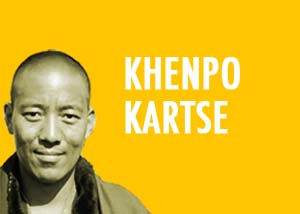 Tibetan social media postings show photos of Khenpo Kartse dressed in lay clothing. A poem he wrote about his situation has also been circulating amongst Tibetans. In the poem, he expresses gratitude to those who have shown care and concern towards him. He states that he is in good health and is ready to continue his work.
However, Khenpo Kartse has not been allowed to return to Japa monastery in Yushu Tibetan Autonomous Prefecture where he was abbot. Since his release he has been kept under close surveillance and is required to stay with a relative in the main city of Yushu Prefecture.
Free Tibet director Eleanor Byrne-Rosengren said:
"It is a relief to know that Khenpo Kartse has left prison and that he appears to be in good health and good spirits. However, while he remains under surveillance and control we can't be absolutely sure of what the situation is. Khenpo Kartse should be allowed to return to his monastery immediately, to resume his life, his religious duties and his service to the community as soon as he feels able to do so.
"Khenpo Kartse's original sentence was far shorter than we had feared and it is very likely the international campaign on his behalf contributed significantly to that. It is a grave injustice, however, that he spent any time in prison at all. It appears his crime was defending his Tibetan heritage and being a figure of respect in his community. It speaks volumes about China's occupation that this is a crime in Tibet."
The Khenpo is highly respected for his Buddhist teaching as well as his community work and advocacy. During the 2010 earthquake in Yushu, he was amongst the first to organise the local people into rescue teams. He had been harassed by authorities for a number of years prior to his arrest. In 2010 his 'political rights' were removed, placing restrictions on him such as requiring special permission to travel outside of the immediate area.
Following his arrest on 6 December 2013, a number of protests demanding his release took place in the area. According to respected Beijing-based Tibetan source Tsering Woeser, he was denied medication for three months after his arrest, despite suffering from bronchitis, tuberculosis and hepatitis.
-------------
Information provided by Tibet Watch