Hundreds of Tibetans Gather For Buddhist Teachings in China's Qinghai
Radio Free Asia, Sept 13, 2016
Qinghai, China -- Hundreds of Tibetan monks and laypeople coming from across northwestern China's Qinghai have gathered this week at a Buddhist monastery in the province for a traditional eight-day period of religious teachings and debates, according to a Tibetan source living in the region.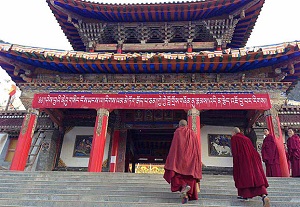 This year's Jang Gunchoe, or Winter Teaching, is being held at Tsigorthang (in Chinese, Xian) county's Drakkar monastery, and began on Sept. 10, RFA's source said, speaking on condition of anonymity.
"Hundreds of monks from four different schools of Tibetan Buddhism, and representing 48 different monasteries, are participating in the assembly," the source said, naming the Buddhist schools represented at Drakkar as Geluk, Nyingma, Kagyu, and Jonang.
Monks from Tibet's Bon tradition are also taking part in the gathering, the 13th to be hosted by Drakkar, he said.
"Most of the monks have come from Geluk monasteries, and they are busy now debating religious topics focused on logic and valid approaches to reasoning," he said.
Many senior religious teachers called Geshes are also attending the event and are instructing those present to devote their lives to meritorious work based on understanding the Buddhist teachings on karma, the source said.
"They are also urging parents to take responsibility for teaching their children Tibet's language and traditional culture, and to provide wisely for their children's future," he said.
Public assemblies at monasteries in Tibetan regions of China have greatly increased in size in recent years, observers and participants say, as tens of thousands of Tibetans gather to assert their national and cultural identity in the face of Chinese domination.
Chinese security forces, fearful of sudden protests opposed to Beijing's rule, frequently monitor and sometimes close down events involving large crowds, sources say.
-----------------
Reported by Kunsang Tenzin for RFA's Tibetan Service. Translated by Karma Dorjee. Written in English by Richard Finney.