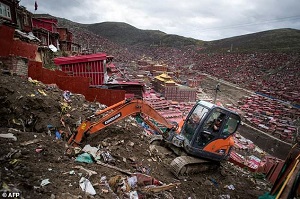 << Bulldozers began crushing homes last year but the process has escalated in the past few months. The properties are being razed to make way for tourism infrastructure, parking, and better roads leading down the steep hills to the central monastic buildings.
The hills around revered Tibetan Buddhist academy Larung Gar were once a seamless carpet of vibrant red, dominated by the homes of thousands of monks, nuns and devotees who crowded the remote valley in southwest China to explore their faith.
Today the landscape is riven with scars, with many houses destroyed and some neighbourhoods torn apart after demolition crews were sent in by authorities, who have ordered a mass clear out of the area.
More than 10,000 people -- including many Han Chinese devotees -- were living around Larung Gar, the world's largest and most important institution for Tibetan Buddhist learning, but the government believes the area had become dangerously overcrowded.
Human rights groups, however, see the demolitions as a ploy by the atheist ruling Communist Party to tighten its grip on religious practise in Tibetan regions.
Bulldozers began crushing homes last year but the process has escalated in the past few months. The properties are being razed to make way for tourism infrastructure, parking, and better roads leading down the steep hills to the central monastic buildings.
- 'Abusive campaign' -
"They tore down so many houses. The government said there were too many people," said Tibetan Buddhist student Gyatso, 26, as he handed freshly sawed planks to a red-robed friend hammering them onto an extension to a house they now share metres from his old one.
Inside, a small tape player quietly chanted mantras on repeat. Tibetan language books lined the walls next to framed photographs of Jigme Phuntsok, the charismatic lama who founded the academy in the 1980s.
"It's freezing here in the winter, but I'm used to it and wouldn't live anywhere else," said Gyatso, who came to Larung Gar as a boy with his family of poor nomadic herders.
He received 5,000 yuan ($735) in compensation for his old home.
E'deng, who like Gyatso withheld his full name for security reasons, was not so lucky. He was ordered out of Larung Gar, his home of two decades, last fall, and now rents a room near a monastery two hours away.
"Of course I didn't want to move, but when the Khenpos decide something you have to listen. There was nothing I could do," he said, referring to revered Buddhist teachers who manage the encampment and have mediated the government request to reduce numbers.
Departing residents have to sign pledges promising never to return to live at Larung Gar, and some have been subject to intensive political re-education once home, according to Human Rights Watch.
HRW has condemned the evictions as a "fundamentally abusive campaign that has prompted suicides, public humiliation, and serious disruption to the community."
The European Parliament called on China in December to stop the demolitions and respect freedom of religion.
Six United Nations human rights experts expressed "grave concern" in a November letter to the government, recalling a previous demolition campaign in 2001, when some 8,000 residents were driven out as homes were destroyed, sometimes with people inside.
- 'Opening their minds' -
Larung Gar has grown in unprecedented size and influence for a Buddhist academy on the Tibetan plateau.
Authorities said last year its population, estimated at between 10,000 and 20,000, would be cut to 5,000 by this September to improve fire safety and sanitation.
A blaze destroyed around 100 houses in 2014, without causing casualties, according to the International Campaign for Tibet.
"Of course fire safety isn't the issue. All they want is to control things very easily," said Lobsang, a monk now living in a neighbouring county who studied at Larung Gar for seven years.
"The government doesn't like so many people -- over 10,000 people -- opening their minds because the school is so good. They think these people are very dangerous," he added.
Some 4,500 nuns and monks had been expelled as of March, according to a senior abbot cited by campaign groups, and over 3,000 homes are thought to have been destroyed as of this spring.
Authorities have made the area nearly inaccessible to foreigners with checkpoints and a heavy security presence, while temporarily limiting flows of Chinese tourists.
In a neighbouring valley, nuns have been placed in square rows of blue-roofed temporary housing.
But locals say demolitions cannot take away the strong pride in Tibetan identity, language and religion the academy has instilled.
Villagers in hamlets hours away carry cards and wear pendants distributed by Larung Gar, representing a vow to live by a moral programme of "10 virtues" espoused by its Khenpos.
For Lhamo, a Tibetan county government employee charged with convincing elderly devotees to leave Larung Gar for retirement homes, imposing the current order has been emotionally taxing.
People would yell and curse at her, she said, but she understood their frustrations.
"That little house is their everything. Even though some are very, very crude, they don't have anything else in the world," she said.
"When I tell them that there are better living conditions elsewhere, they say they only care about studying Buddhism, not material things. What can you possibly say in return?"