Mount Wutai Buddhist Nuns Gather on Tiananmen Square
By Zhao Zifa and Ji Jian, Epoch Times Seattle Staff, Jan 5, 2006
Beijing, China -- On December 18, 2005, more than twenty Buddhist nuns and their abbot from Mount Wutai, one of the four holy lands for Chinese Buddhism, appeared on the Tiananmen Square in Beijing. Their short-lived gathering there almost triggered an arrest action by the police.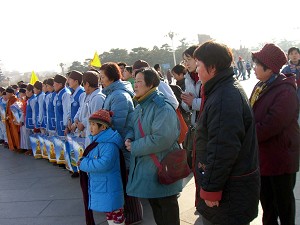 << Buddhist nuns from Mount Wutai taking group photos around the monument on the Tiananmen Square. They chanted the name of Buddha Amitaba in chorus. With their hands closed palm-to-palm in a gesture of reverence, many tourists were drawn to the nuns, trying to make karmic relationships. (The Epoch Times)
Led by an abbot wearing a golden robe, a group of Buddhist nuns in grey robes and light blue pants entered the Tiananmen Square at 10:17 a.m. They carried paper bags with a golden Buddha printed on the surface. On the rear of their blue vests were the Chinese characters for "Mount Wutai."
They gathered in front of the monument on Tiananmen Square, took group photos, and started to chant the name of Buddha Amitaba [1]. A lot of tourists were attracted by the Buddhist nuns. With their hands closed palm-to-palm as a gesture of reverence, the tourists moved towards the nuns, trying to establish karmic relationships.
Eight or nine minutes later, two police vehicles rushed to the scene. In front of the public, the police reprimanded the nuns loudly, "This is not the right place for your gathering. You ought to leave immediately."
The nuns lingered around the Tiananmen Tower and Mao's Memorial Hall for awhile longer. The police threatened that if the nuns refused to leave, they would be arrested and detained.
At 11:17a.m, the group of nuns walked peacefully out of the Tiananmen Square from the southeastern corner. They were closely "escorted" by a police car.