Chinese pilgrims attend prayer meeting by Dalai Lama
By Lindsay Beck and Benjamin Kang Lim, Reuters, Feb 10, 2006
BEIJING, China -- Thousands of Buddhist pilgrims from Tibet and China attended a prayer meeting alongside the region's exiled god-king, the Dalai Lama, in India last month in a rare mingling of Chinese nationals with one of Beijing's foes.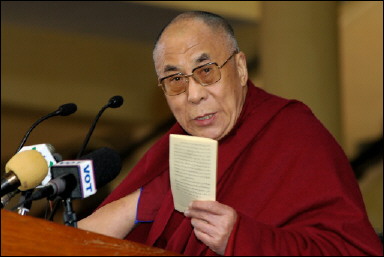 Beijing and envoys of the Dalai Lama, who fled his Himalayan homeland to India after an abortive uprising against Chinese rule in 1959, have held four meetings in the past three years as part of a delicate and slow-moving process of rapprochement.
Tibet's government-in-exile in Dharamsala said on Friday about 200 ethnic Chinese and up to 10,000 Tibetans attended the Kalachakra, an initiation ceremony for Buddhists, in Amravati, south India, last month.
"Certainly we believe that this time we have a huge number of Tibetan people who came all the way from Tibet," Jigme Tsultrim, at the press office of government-in-exile, told Reuters.
"They (Chinese authorities) are allowing and giving more and more flexibility in issuing these travel documents," he said.
It was not clear why so many were allowed to go, but easing restrictions on Tibetans travelling for the ceremony could be a confidence-building measure ahead of another round of dialogue, which sources say could happen early this year.
CURBS EASED IN 2003
There were no comparative figures available, albeit curbs on Chinese nationals travelling to India were eased only in 2003.
"The Chinese government neither encourages nor bans people from attending," said Luorong Zhandui, of China Tibet Research Centre, a government think-tank.
A spokesman for the State Religious Affairs Bureau said he had no knowledge of it but said overseas-bound pilgrims need to go through official procedures.
Despite the easing of the curbs, most Tibetans loyal to the Dalai Lama, instead of Beijing, have been denied passports.
Many Tibetans dissenting of Chinese rule, including monks and nuns, have been jailed or fled to India, where the Dalai Lama has lived in exile for almost five decades. Chinese Communist troops marched into the remote, mountainous Tibet in 1950.
China has been indifferent to criticism of human rights abuses in Tibet and insists that religious freedom is enshrined in its constitution.
The Dalai Lama has been branded a traitor by Beijing but he is still revered in Tibet despite a government system that enforces political study to keep monasteries in check.
He said last November confidence-building talks between Tibetans and China had done little to ease a "very repressive" atmosphere in Tibet.
NO INDEPENDENCE DREAMS
But at the ceremony, the Dalai Lama told an audience, including followers from China, that he hoped to return to his homeland one day and denied any dreams for independence.
"His Holiness said that he hoped he and the Tibetans would help the Chinese in China when he and Tibetan refugees return to Tibet," the government-in-exile said on its Web site (www.tibet.com). He also talked about "his middle-way approach and his willingness to stay within the constitutional framework of the People's Republic of China without seeking independence".
His addresses on the subject were the first many from China -- whose media on Tibet is tightly controlled -- had heard of the dialogue process, said Kate Saunders, of International Campaign for Tibet.
The 11-day event moved many to tears as they knelt and prayed with clasped hands, said one pilgrim who requested anonymity.
Some pilgrims brought suitcases of personal belongings of family members who could not make it for the Dalai Lama to bless, the pilgrim said.
China has more than 100 million Buddhists and about 7.6 million practitioners of Tibetan Buddhism, official figures show.
China, ruled by the atheist Communist Party since 1949, also allows its Muslims to make annual pilgrimages to Mecca.
(Additional reporting by Guo Shipeng)