Dalai Lama envoys land in China for secretive talks
By Lindsay Beck, Reuters, Feb 15, 2006
BEIJING, China -- Envoys of Tibet's spiritual leader, the Dalai Lama, arrived in China on Wednesday for secretive talks on allowing more autonomy for the Buddhist region, Tibet's government-in-exile said.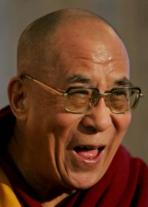 It was the fifth round of talks since contacts between China and the Dalai Lama's representatives resumed in 2002, but there have so far been no concrete results of a process the Chinese government does not even openly acknowledge exists.
"Our ultimate hope is to resolve the issue of Tibet on the basis of negotiated settlement with the Chinese leadership so that Tibet people will have the freedom to preserve what is important to us, which is our cultural identity," Thubten Samphel, spokesman for the government-in-exile, said.
The Dalai Lama fled Lhasa in 1959 after a failed uprising against Chinese rule, nine years after Communist troops invaded the remote, mountainous region.
Although Beijing considers him a traitor, many Tibetans still remain loyal to the figure they regard as a god-king.
Thubten Samphel said that at the previous round of talks with the Chinese in Switzerland last year there was "very intensive, frank discussion".
"This gives us hope that these contacts will deepen and eventually lead to peaceful settlement of the issue of Tibet," he said by telephone from Dharamsala, the Indian hill station where the Dalai Lama is based.
RALLYING POINT
China's United Front Work Department, which has represented the Chinese side in past rounds, declined to comment.
But analysts say China is committed to the dialogue in part because it fears that if the Dalai Lama, who is now 70, dies in exile, it could create a rallying point for Tibetans unhappy with Chinese rule and leave a destabilizing leadership vacuum.
That could also strengthen support among Tibetans for full independence, especially among youth frustrated with the Dalai Lama's "middle way" approach that advocates autonomy for Tibet as a part of China.
Those pressures are keeping the dialogue afloat, despite of its glacial pace, analysts say.
"The Tibetan side have been keen that they're not going to come back unless they're convinced this is moving forward as a process," said one Western diplomat.
But the diplomat also cautioned that a resolution to the bitter dispute was likely to be a long way off.
In what some saw as a confidence-building measure ahead of the dialogue, thousands of Buddhist pilgrims from Tibet and China attended a prayer meeting in India last month alongside the Dalai Lama.
Groups of ethnic Tibetans in western China have since burned skins of endangered animals, following statements made by the Dalai Lama at the ceremony emphasizing wildlife protection and calling on Tibetans not to wear illegal furs and skins.
"It's a testament to the continued influence of the Dalai Lama," said Kate Saunders of the International Campaign for Tibet, who attended the prayer meeting.
The Dalai Lama also spoke publicly at the ceremony about the dialogue with China.
"For many Tibetans it was the first time they had heard about it," Saunders said. "There were thousands listening in complete silence."