Buddhist monks head to campus for degrees
Shanghai Daily, March 8, 2006
Shanghai, China -- You are almost as likely to find a monk on campus as in a temple these days as a growing number of Buddhist clergymembers are working on a college degree or an MBA.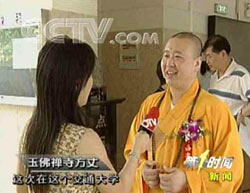 << The abbot Chang Chun who's in charge of Shanghai's thriving Jade Buddha Temple is interviewed as he enrolled in the MBA class by Shanghai's Jiaotong University last summer. [cctv]
Since the city set up its first college-degree program specifically for clergymen in 2004, more than 100 monks from temples around the city have signed up for the course at East China Normal University.
The monks study the same subjects as ordinary art majors, including Chinese literature, history, English, management and psychology.
"We will strengthen subjects like Chinese literature, culture and history part, which we believe are more practical for Buddhist students, and set up other subjects to broaden their minds," said Xie Anding, director of ECNU's school of continuing education.
Buddhist students, most of who are between the ages of 30 and 45, have to sit the public college entrance exam for adults before enrolling in the course.
Similar to ECNU, Shanghai International Studies University has teamed up with Shanghai's renowned Jade Buddha Temple to offer foreign language training programs for monks since last year.
Jiao Tong University's Antai school of management even launched a short-term MBA training course for monks last year, equipping the clergymen with modern business management concepts.
"The biggest purpose for these higher educational classes is to enhance clergymen's overall quality and help them become more engaged with the outside world," Xie said.
Monks in the city usually graduated from special Buddhist schools, which offer about the similar education level as middle or high schools. But individual monks differ much in their personal academic levels.
Wu Duan, abbot of the Xilin Temple in suburban Songjiang District, said that he does well in ancient Chinese literature, but English is a big challenge for him.
"Nowadays, I have to get up at 5am and read not only Buddhist texts but also English textbooks before breakfast every day," said the abbot.
"Studying is hard, but I'm still happy to have such an opportunity to keep up with modern society," Wu said.