China hopes Buddhist forum will counter threat theory
By Benjamin Kang Lim, Reuters, Mar 27, 2006
BEIJING, China -- China will use a Buddhist forum, its first international religious meeting since the atheist Communists swept to power in 1949, to counter fears it is a threat to the world, the top official on religion said.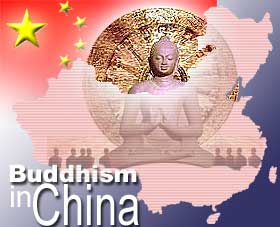 About 1,000 monks and experts on Buddhism from more than 30 countries will attend next month's forum in the scenic city of Hangzhou and nearby Zhoushan in eastern Zhejiang province.
The theme of the forum -- "a harmonious world begins in the mind" -- expounds on President Hu Jintao's campaign to build a "harmonious society" in the face of rising unrest at home.
"The 'harmonious world' theory ... will help dispel doubts in the international community about China's continued development and refute the absurd 'China threat theory'," Ye Xiaowen, director of the State Bureau of Religious Affairs, said in a speech seen on the forum's Web site on Monday.
Long-standing threats to attack Taiwan if the island Beijing claims as its own formally declares statehood and a build-up by the country's 2.3-million-strong army have spawned fear among neighbours, many of which share a Buddhist heritage with China.
Conservatives in the United States are also suspicious of the world's most populous country which has now become one of the five biggest economies.
China maintains tight control over religions, including monasteries in Tibet where monks and nuns have been jailed for expressing sympathy with the Dalai Lama, whom the government has branded a "splittist". But Beijing is generally less fearful of Buddhism, with its home-grown roots, than other religions.
On the domestic front, the Chinese government even hopes Buddhism can help its rule.
"It is desirable for Buddhist affairs to help civilian rule," said Ye, China's top official on religion since 1995. He made the remarks last month at a closed-door meeting with the board of the Buddhist Association of China in Jiangsu province.
The forum has the blessings of the religious affairs bureau, the top watchdog over China's Buddhist, Islam, Catholic, Protestant and Taoist associations.
TARNISHED IMAGE
Analysts say the forum was a low-risk move that could help improve President Hu's and China's image tarnished by government crackdowns on journalists, Internet writers, civil rights campaigners and academics in the past year.
China may also be more tolerant towards Buddhism to help ease rising social unrest.
"The Buddhist concept of compassion can help dispel people's jealousy, hatred, desire for revenge, and can help ease the suffering of disadvantaged groups," wrote Fang Litian, an expert on Buddhism at Beijing's Renmin University.
"Karma ... fundamentally speaking is conducive to individual moral probity and social order and stability," Fang wrote in an essay posted on the forum Web site.
(Additional reporting by Guo Shipeng)