Buddhism 'contributes to a harmonious society'
By Huan Xin, China Daily, April 11, 2006
Beijing, China -- Buddhism, a major religion in China, can play a unique role in promoting a "harmonious society" and contributing to world peace, a top religious affairs official and researchers said yesterday.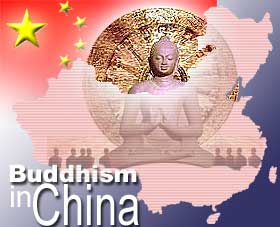 As a religion with "profound ideas of harmony and a conception of peace," Buddhism can relieve strain and stress among people and between humans and nature, thus enhancing social accord, said Ye Xiaowen, chief of the State Administration for Religious Affairs.
China has been striving to build a harmonious society and advocating the construction of a harmonious world.
Advocating the Buddhist spirit of harmony, peace and benevolence will undoubtedly push forward harmony in China and the world, Xinhua quoted Ye as saying.
"As a responsible country, China has had its own deep thinking and measures of foresight for the promotion of world harmony," Ye said.
"Religious force is one of the important social forces from which China draws strength."
The official made the remarks just days before the World Buddhist Forum convenes in the scenic city of Hangzhou, and nearby Zhoushan, in East China's Zhejiang Province on Thursday.
It is the first time since Buddhism came to China 2,000 years ago that the country has hosted such an event.
Monks and experts on Buddhism from across the world will exchange views at the five-day forum, focusing on the theme that "a harmonious world begins in the mind," according to sources with the religious agency.
A popular doctrine of Buddhism is "to do no evil, to do only good and to purify the will," said Wei Daoru, a researcher with the Institute of World Religions under the Chinese Academy of Social Sciences.
As proven in the past hundreds of years, Buddhism has helped avert various strife among people, and taught believers to re-adjust their mindset for peaceful co-existence with nature and others, Wei told China Daily.
The religion also preaches that all different Buddhist sects are equal and should live in amity, Wei said.
In addition, Buddhism has become a bridge for international cultural exchange, he said.
Venerable Guoguang said that Buddhism advocates fusion rather than conflict, and sticks to the truth of accepting differences.
The religious doctrine of selflessness, charity, respect, equality and tolerance makes it culturally advantageous in safeguarding world peace, he said in an article submitted for the Buddhist forum.
China has at least 20,000 Buddhist temples and about 200,000 Buddhist monks and nuns, according to official statistics.