China: Role of Buddhism in Promoting Social Harmony
Xinhua, May 10, 2006
When she retired from a local factory three years ago, Qiu Huiying, a resident in Hangzhou, capital of east China's Zhejiang Province, couldn't help feeling lonely and depressed as she often thought she had been "left behind by a rapidly developing society."
BEIJING, China -- When she retired from a local factory three years ago, Qiu Huiying, a resident in Hangzhou, capital of east China's Zhejiang Province, couldn't help feeling lonely and depressed as she often thought she had been "left behind by a rapidly developing society."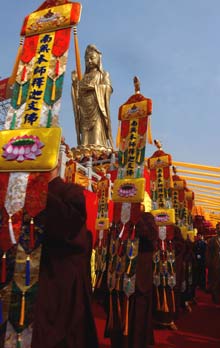 << Some 1,000 dignitaries and guests from different countries and regions attend a grand prayer for world peace, also the closing ceremony of the First World Buddhist Forum, in Mount Putuo, east China's Zhejiang Province, April 16, 2006. (Photo: Xinhua)
Qiu, now 58, didn't find back her mental peace until she turned to Buddhist doctrines. "Having meditated over the meaning of life, my mind gradually calmed down and my family is happy to see my life back to normal," she said.
Qiu was more than glad when her city played host to a World Buddhist Forum in early April, China's first international Buddhist congregation since the religion was introduced to the country some 2,000 years ago.
The holding of the forum was big news to the country's 100 million Buddhism adherents, as well as some 200,000 monks and nuns in 130,000 monasteries and convents. It has conveyed the message that the doctrines of Buddhism are officially recognized by the atheist government as a conducive vehicle to help with the creation of a harmonious society.
As China becomes more wealthy and worldly, "Buddhism can be taken as 'a method to deal with humanity's spiritual confusion and solve various problems confronting us," Ye Xiaowen, director of China's State Administration for Religious Affairs, told China Features at the World Buddhist Forum.
The forum is themed as "A harmonious world begins in the mind," which coincides with the Communist Party of China's ambitious campaign to "build a harmonious society" initiated by President HuJintao in 2005, when he urged state and Party leaders to prioritize social harmony on their agenda.
Wealth disparity and materialism have not just created strains and tensions in modern China, but an ideological vacuum. Many feel lost, spiritually and morally. Buddhist clergies believe Buddhism offers peace of mind to fill the vacuum.
"The feeling of losing oneself really is the biggest problem for modern people," said Yang Zengwen, director of the China Buddhist Culture Research Institute.
"Yet, practicing the Chan sect or Zen Buddhism by asking 'what is true self?' can help purify the mind and recover true being," Yang noted.
The core of Buddhism is "benevolence" and "compassion". In this very regard, "Buddhism as a religion can act like lenitive to relieve the strains between economic development and spiritual emptiness in the secular world, such as China, where the population hits 1.3 billion, and economic growth has scored an average 9 percent annually, " said a Party official in Beijing, who asked not to be identified.
Buddhism came into China from India around 200 BC. Such a long history of home-grown roots and the same emphasis on "harmony" as traditional Chinese culture have given Buddhism an advantage over other religions to win over believers.
Ding Mu, an artist from the southwestern municipality of Chongqing, noticed the teachings of Buddha are quite close to Confucianism. "Both direct you to be lenient and tolerant."
Thinking results in a change of behavior. "Secular harmony is possible when we have a big heart and become ready to reach out instead of being jealous of each other and fighting each other over external things such as fame and gain," Ding said.
Buddhism has Five Precepts, namely, no intentional destruction of life, no stealing, no sexual misconduct, no lying and no intoxication. "They stress the harmony of human with the nature, the harmony of people between each other," said Ven. Yicheng, president of China's Budddist Association which co-sponsored the Hangzhou forum along with the China Association for Religious and Cultural Exchanges.
The precepts have had a significant influence on China. "Buddhism's philosophy is also a major reference for China's 'harmonious society' concept," said Ye Xiaowen, the top official in charge of the country's religious affairs.
At the five-day-long forum, 1,000 Buddists from 37 countries and regions focused on Buddhism's unity and cooperation, its social responsibilities and the peaceful mission to stimulate different countries, nations and religions to work for a peaceful, prosperous and harmonious world.
They even worked out new moral teachings for social harmony, which says a pacified mind sprouts a pacified land, a tranquil mind a tranquil public, and a peaceful mind a peaceful world.
In Oct. 2004, eight monks from the Chinese mainland, Hong Kong and Taiwan first proposed the forum to promote Buddhism development and discuss ways to build a harmonious world, a suggestion that immediately won support from Buddhist circles in Japan and the Republic of Korea.
Wherever senior monks and nuns participating in the forum went, they were greeted by pious smiles and many were asked to leave their "mobao", which literally means "precious calligraphy writing" in Chinese. Cameras clicking and DV rolling, not only reporters, but many junior monks were busy recording every moment.
Zhanzheng, 32, followed his teacher Ven. Haitao from Taiwan to travel around the island province, the mainland and southeast Asia preaching Buddhist teachings. The handsome young man said he no longer found his mind bewildered after he began learning Buddhist teachings three years ago.
"Young men like me feel anxious and confused with the pressure of competition and high expectations. Now I know how to help others and live a more meaningful life," he said, smiling at videos he shot for Life TV channel sponsored by Haitao, a source for many Taiwanese to learn Buddhist teachings and new developments.
At Mount Putuo nearby Zhoushan city, "an island kingdom of Buddhism on the sea," thousands of people, believers or not, followed the monks and nuns to place candles in lotus lamps before the gilded Goddess of Mercy statue in Puji Monastery, a lamp transmission ceremony meant to expel the darkness of mind.
"I don't believe in Buddhism. But facing the Goddess of Mercy, I'm pious and believe my prayer can be heard," said 16-year-old student Xiao Chen. Apparently, she was influenced by her mother, who saluted every passing monk.
For Zhengfa, a 21-year-old monk from Hangzhou's Shangtianzhu Monastery, it was a happy thing to see more young people turn to Buddhism, whether seriously or just at times as they, more educated than before, can help spread Buddhism to more people.
Unlike the old image of a monk wearing a grey or yellow robe with a bowl in hand and parcel on back to beg alms, monks like Zhengfa use cell phones, digital cameras and log on the Internet to understand how the world is developing.
"If modernization is a river tide, then we are a boat. We have to ride the right direction and know what should be or not be done. Only in this way can we stand ready for the tide instead of being washed away like fish," said Master Yongxin of Shaolin Temple based in central Henan Province, who put the once-secret Shaolin Kungfu documents online and is committed to promoting the Shaolin culture worldwide.
As an epilogue of the forum, monks and nuns visited Shanghai and rode the country's first magnetic suspension train and gained a bird's view of the financial hub of the Bund with the 468-meter-tall Oriental Pearl TV Tower, all landmarks of China's rapid economic growth in the past two decades.
"As long as people who love each other come together, who cherish peace and harmony come together, as long as we sit down together to communicate, it's something significant.
"It's good that the forum lets fresh air in and offers a platform for different peoples to know more about China. And when we return home, we will help more people to know China," said Dra.S. Hartati Murdaya, president of the Indonesian Buddhist Council Association.