In Greater Tibet, Dalai Lama's light burns bright
Reuters, May 21, 2006
Tibet, China -- Lit by flickering, sallow yak butter candles sits a small picture of a man despised in Beijing as leader of a splittist independence movement but admired by millions for his pacifism-the Dalai Lama.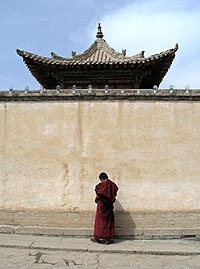 << A Tibetan monk prays at Kumbum Monastery in west China's Qinghai province in this May 2, 2006 file photo. Ethnic Tibetans in Qinghai, who comprise a fifth or so of the 5 mln population, remain fiercely loyal to the Dalai Lama, even after almost a half century since he fled to India after a failed uprising against Chinese rule. REUTERS/Ben Blanchard

And by Chinese law, it shouldn't be there, standing on an altar in a hall that's part of the Tibetan Buddhist Kumbum Monastery.
But nobody seems to mind too much, as the monastery is not in Tibet proper, but in greater Tibet-the remote, western Chinese province of Qinghai, known in Tibetan as Amdo.
"The monks all love him," shrugged tour guide Shi Beiting, a Chinese Muslim from the provincial capital, Xining, a half-hour drive up the road from Kumbum, known in Chinese as Taersi.
The framed photograph is all the more remarkable because the Nobel laureate is pictured in front of a Tibet independence flag.
Around the corner, in front of the main hall, an older monk from southeastern Qinghai, resplendent in vermilion and saffron robes, flags down a foreigner among the multitude of Chinese tourists.
Two minutes into the conversation, and after looking around to make sure no government officials are listening or spying on him, he quickly pulls down his shoulder sash to reveal a gold-coloured badge of the Dalai Lama.
"It's no problem here," said the monk, who declined to give his name.
Situated hundreds of kilometres from Lhasa, Qinghai and parts of Sichuan, Yunnan and Gansu provinces that were historically part of the Himalayan region all enjoy greater religious freedoms than Tibet itself.
"It's less restricted in Amdo. Most of the pressure and the repression is focused on the Tibet Autonomous Region," said Yael Weisz-Rind of the Free Tibet Campaign.
"It's a symbolic issue. Many tourists who go to Tibet just go to Lhasa and Shigatse, so this is where they're trying to control any expression of independence or religious belief or national identity," she said.
ALWAYS IN OUR HEARTS
Ethnic Tibetans in Qinghai, who comprise a fifth or so of the 5 million population, remain fiercely loyal to the Dalai Lama, nearly half a century since he fled to India after a failed uprising against Chinese rule.
"Of course I have a picture of him at home. He is our leader and always in our hearts," said Ganba, an old lady selling Tibetan prayer flags on a high mountain pass near Kumbum, her eyes lighting up when asked about the Dalai Lama.
A more controversial and touchy subject is the 11th Panchen Lama, Tibetan Buddhism's number two.
Pro-Tibet groups say Gendun Choekyi Nyima, 17, has been under house arrest since the Dalai Lama appointed him Panchen Lama in 1995.
The Dalai Lama's unilateral announcement embarrassed and enraged China's atheist Communist leadership, who dropped Nyima's name from a shortlist of candidates and endorsed Gyaltsen Norbu as the reincarnation of the 10th Panchen Lama, who died in 1989.
China has condemned exiled Tibetans and international human rights watchdogs for calling Nyima the world's youngest political prisoner, saying their aim is to push for independence for the Himalayan region.
The sensitivity of the issue can be felt at the 10th Panchen Lama's birthplace, in Wendu, a three-hour drive south of Qinghai's provincial capital through a landscape of barren, red mountains and lush green valleys.
A monk shooes foreign visitors away from the 10th Panchen Lama's beautifully preserved, traditional Tibetan house, and local people are scared to discuss the matter.
"I can't say for certain who the real one is, but our country has laws. I don't want to talk about it. There are spies," said Jikerdan, a day labourer.
Another monk, Ola Shige, from an eastern Qinghai monastery, was more subtle.
"It's hard to say who's the one," he said, fingering his prayer beads.
"But I think I know which one I'd support," he added with a sly smile.
DALAI LAMA WHO?
Chinese tourists, who if born after the 1949 Communist revolution generally know little about religion, express amazement at Tibetans' devotion to both the Dalai Lama and Buddhism.
"I don't know much about the Dalai Lama, but the Tibetans all seem really keen on him. They are a very pious people," said Liu Haiyang from the southwestern city of Chongqing.
Not even the tour guides seem to know much about the Dalai Lama, whose name is usually only ever mentioned in China in vitriolic terms.
"That's the Dalai Lama. He used to be in India but he's since moved to the United States," said one tour guide, leading a group of Chinese tourists all wearing the same red hats through the Kumbum Monastery, pointing to his picture.