World Cup fever reaches Tibet's monks
Sapa, July 7, 2006
Lhasa, Tibet -- At Tibet's holiest shrine, young monks are getting up at 03:00 - not to pray - but to watch the World Cup.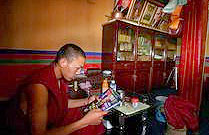 << A young monk looks at a magazine bearing Brazilian player Ronaldo in the cover in his dormitory where pictures of the Dalai Lama and the Karmapa adorn the walls.
Lights flickered in the windows of the Potala Palace, former home of Tibet's exiled ruler, the Dalai Lama, as France beat Portugal this week to set up a final showdown on Sunday against Italy.
Monks watched on a 54cm colour TV, drinking Coca-Cola and eating instant noodles, said Lobsang, a 27-year-old monk with a gapped-toothed smile and a closely shorn head.
"I get very excited, very happy, when I watch the games because I get to see a lot of the famous players," said Lobsang, who like many of the 83 monks at the palace goes by only one name.
Tibet's Buddhist monks aren't encouraged to play soccer, though they are allowed to watch. But among ordinary Tibetans, the game is as wildly popular as it is in the rest of sports-mad China.
"Most Tibetans love and play football," says Bian Ba, a former rear guard for Tibet's official league team. He now works in the Potala Palace, helping with tourists and keeping an eye on the treasures.
At the sports bar of the Yak Hotel in Lhasa, about 20 mostly Tibetan fans watched games as they drank beer and ate meat and potatoes grilled on skewers over a trough of hot coals.
Restaurants in the Tibetan capital that stayed open until early morning were crammed with Tibetans and Chinese migrant workers watching the game.
At the Johkang Monastery, where the main hall is filled with jewel-encrusted gold religious statues, the walls of the dormitory for young monks are hung with posters of Brazil's Pele and Ronaldo and Real Madrid's Roberto Carlos. The monks call them the "soccer kings."
Other pictures show the Dalai Lama and the Karmapa, another exiled Tibetan spiritual leader.
A young monk sits on a floor cushion absorbed in a Chinese-language soccer magazine with articles about England's David Beckham and other stars.
But is it acceptable for monks to become so attached to a sport when their goal is to let go of worldly pleasures?
Lobsang, from the Potala, thinks so.
"This activity brings a kind of happiness," he said. "It doesn't harm anybody and it brings people together."