Beijing pledges 'a fight to the end' with Dalai Lama
by Jane Macartney, The Times, August 14, 2006
Beijing, China -- China's new top official in Tibet has embarked on a fierce campaign to crush loyalty to the exiled Dalai Lama and to extinguish religious beliefs among government officials.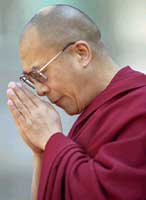 << Chinese officials want to end the Dalai Lama "cult" (EPA)
Zhang Qingli, was appointed Communist Party secretary of the Tibetan Autonomous Region in May. An ally of Hu Jintao, China's President, Mr Zhang, 55, has moved swiftly to tighten his grip over this deeply Buddhist region.
He was previously head of the paramilitary Xinjiang Production and Construction Corps in that mainly Muslim western region, overseeing migration of ethnic Han Chinese as well as border security.
Mr Zhang's drive to stamp out allegiance to the Dalai Lama, who fled to India during an anti-Chinese uprising in 1959, has adopted a tone rarely seen since the mid-1990s. At the time Beijing launched a barrage of angry rhetoric against the region's god-king and banned his photograph after he enraged China by unilaterally announcing the discovery of the reincarnation of Tibet's second holiest monk, the Panchen Lama.
In May Mr Zhang told senior party officials in the region that they were engaged in a "fight to the death" against the Dalai Lama. Since then he has implemented several new policies to try to erode the influence of the 71-year-old monk who China's rulers believe is waging a covert campaign to win independence for his Himalayan homeland.
Ethnic Tibetan civil servants of all ranks, from the lowliest of government employees to senior officials, have been banned from attending any religious ceremony or from entering a temple or monastery. Previously only party members were required to be atheist, but many of them quietly retained their Buddhist beliefs.
Patriotic education campaigns in the monasteries that have been in the vanguard of anti-Chinese protests have been expanded.
Ethnic Tibetan officials in Lhasa as well as in surrounding rural counties have been required to write criticisms of the Dalai Lama. Senior civil servants must produce 10,000-word essays while those in junior posts need only write 5,000-character condemnations. Even retired officials are not exempt.
Non-governmental organisations in Tibet have not been spared as Mr Zhang tightens the party's grip. Previously, these organisations — involved in aid, healthcare, education and building preservation — had been able to sign five-year contracts with the Government to work in the region. But this has been cut to two years and several have been refused a new contract and must leave.
Mr Zhang told a reporter last week: "The Dalai Lama used to be an acknowledged religious leader, which is an undoubted fact, but what he has done makes him unworthy of the title."
His tone echoed that of a recent full-page diatribe carried in both the Chinese and Tibetan editions of the Tibet Daily that accused the Dalai Lama of collaborating with the US Central Intelligence Agency. It said: "What he pursues is a swindle and nothing stands between his 'high-level autonomy' and 'Tibetan independence'."
Mr Zhang said few people understood the true nature of the Dalai Lama. "I still can't figure out how he was awarded the Nobel Peace Prize. What peace has he brought to the world?"
The latest denunciations cast into doubt the future of secretive negotiations between envoys of the Dalai Lama and Beijing over his possible return to Tibet. The talks resumed in 2002 but have so far made scant progress.
Shedding light on the process, a Chinese official has said that the Dalai Lama's envoys had raised the issue of a "Greater Tibet" but this is unacceptable to China. Parts of China's western provinces of Gansu, Qinghai, Sichuan and Yunnan are home to large ethnic Tibetan populations and many were carved out of Tibet in a government reconfiguration in the 1920s and 1930s.
The Tibet Daily commentator, identified by the Tibetan name Yedor, said: "It is easy for one to see the Dalai Lama's ulterior motive: eventually seeking Tibetan independence."
The Dalai Lama has said he does not seek independence but autonomy under Chinese rule.