Dispute arises over sports car for Shaolin abbot
Xinhua, Aug 22, 2006
ZHENGZHOU, China -- The gift of a luxury sports car by the Dengfeng City government to a monk for his contributions to the local tourism industry has stirred up a heated debate on the Internet.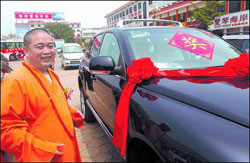 << The abbot of the Shaolin temple in the central province of Henan, Shi Yongxin, stands beside a spectacular sports sedan worth 1 million Yuan (US$125, 000), which is awarded to him for his contributions to the local tourism industry. [Dahe Daily]
Shi Yongxin, the abbot of Shaolin Temple in Dengfeng in Henan Province, received the one million yuan (US$125,000) vehicle eight days ago at the city's tourism promotion conference.
"I will try my best to promote martial arts to the world in an attempt to boost local tourism. I dream of getting a bigger prize next year," said the abbot who is in charge of the place widely considered to be the birthplace of China's famed kungfu.
Following the award ceremony, tens of thousands of netizens pasted their opinions on net forums or surveys conducted by China's major web portals, including sina.com, sohu.com, yahoo.com and netease.com, to discuss the contentious move.
Results of the survey show that about three-quarters of the respondents consider that giving a luxury sedan to a monk is inappropriate.
"Shaolin monks are renowned for their austerity, transcriptions of religious classics and marvelous martial arts, but now, luxury goods have entered their lives, proving that the religious world has been violated by worldly concepts," an anonymous netizen wrote.
The netizen called for spiritual encouragement for religious people rather than material rewards.
Some of the criticism targets monks, saying they should not enjoy modern luxury goods in temples. "They have forgotten what their purpose is and are concentrating on what they shouldn't do," wrote a dissenter with the internet name "virtuous-way".
"His duty is to boost the martial arts spirit. Even if he contributes a lot to local tourism he should not be given a car," commented a netizen, adding that it is wrong to spend one million yuan on a car in a underdeveloped province.
Agriculture-oriented Henan is the most populous province in China with 96.67 million. The population will top 100 million in 2009.
Poor villagers struggle to make a living. One of the most tragic aspects of Henan life is the existence of "AIDS villages" harboring people who contracted AIDS from dirty needles when they sold blood to illegal blood banks.
Those support the move consider the award is proper because driving and praying do not conflict each other in a monk's life.
"The Shaolin temple has made a large amount of profits over past years as its fame has escalated around the world. It is proper to reward the abbot with a sedan," a supporter with net-name of "Shaolin-believer" wrote.
"It is reasonable to award a person who made contributions to local tourism," a post says, adding that those who oppose the move may have never achieved anything.
"There aren't any laws to stipulate that monks can't drive a car," says another post, adding that the temple does a lot for local tourism due to their fame.
Shaolin Temple, built at Songshan Mountain in 496 during the Northern and Southern dynasties (420-581), has attracted nearly three million domestic and overseas tourists and gained an income of 75.5 million yuan (US$9.4 million), up 49 and 65.4 percent respectively over the same period last year.
Shaolin's martial arts has been gaining influence worldwide as actors of Chinese origin, such as Bruce Lee and Jackie Chan, use its stunts in a wide range of overseas films.