Massaging young minds
by Carol Chung, The Standard, March 5, 2007
Hong Kong, China -- The Su Bong Zen monastery, flanked by a foot massage parlor and a hair salon at its entrance, is not hard to find. And it is no longer a rarity in Hong Kong.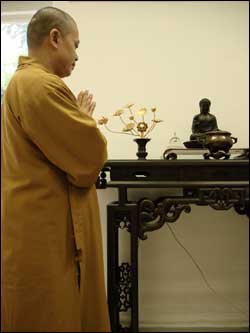 << Ven. Dr Jing Yin, a director of the Centre of Buddhist Studies at Hong Kong University.
Among the more than 40 people sitting on round zafu cushions in the monastery, on the fifth floor of a commercial building in Causeway Bay, a woman in executive wear sits cross-legged in a full-lotus position, meditating between a Buddhist monk in a gray robe and a young student in casual sportswear. Most of them have their eyes closed, apparently deep in thought.
From time to time, the peaceful chime of a bell and the crack of a wooden keisaku stick are heard. Sitting in at one of the meditation sessions at the monastery, one easily forgets the world outside - until the faint noise of trams and buses on Leighton Road penetrate.
The silence broke, and I wondered: young people and executives - what are they looking for in Buddhism?
"Buddhism is a traditional belief, but it is no longer a grandma's and grandpa's belief," said the Venerable Jing Yin, sitting in the lotus position.
"More educated people and from all walks of life are showing interest in Buddhism because courses on Buddhism are offered at both the University of Hong Kong and the Chinese University, and Buddhism has now become more accessible," said Dr Jing Yin, who is a director of the Centre of Buddhist Studies at Hong Kong University.
The growing popularity shows that people's standards of living are improving, and they can afford to pursue
food for the mind, he said.
People are also more interested in philosophies such as Buddhism, which has more room to develop than Christianity.
Media attention is also an important reason for the religion's new popularity. Celebrities like Eric Tsang Chi-wai, Connie Chan Po-chu and Jacky Cheung Hok-yau are firm believers.
The government has also put more emphasis on education, Jing Yin said.
The Centre of Buddhist Studies has research projects funded by the government to set up workshops on basic Buddhist theories at five Buddhist schools for Form Four and Five students. The center is also involved in developing a liberal studies curriculum for senior secondary school students based on theories in Buddhism.
The religion's increasing popularity is particularly significant among young people. The Buddhist Youth Association has seen its membership soar from a few hundred to more than 4,000 in the past 20 years, with the youngest member only 16 years old.
An association spokesman said people in their 20s are interested as they need calm after feeling the pressures of a busy, materialistic life.
The number of monasteries springing up in commercial buildings has increased in recent years. According to the Hong Kong Buddhist Association, about 400 Buddhist monasteries can be found in the territory, belonging mostly to the Mahayana school, especially in Zen and Pureland. The most notable is the Chi Nin Nunnery at Diamond Hill.
Po Lin Monastery on Lantau, with the world's tallest outdoor seated bronze Buddha, was visited by 1.3 million people last year.
The number of Buddhists in Hong Kong, according to the association, has tripled over the past five or six years to an estimated one million followers. The increasing number includes those converting from Christianity.
Timothy Fu, a 36-year-old Christian for more than 20 years, recently turned Buddhist, saying he stopped going to church because he was not satisfied with the answers found in Christianity.
"When times are good, they praise the Lord; in bad times, they say it's the Lord testing us. But in Buddhism, I get more answers to life," he said.
"I realize life is constantly changing, including the good and the bad things. I feel happier and I'm more willing to let go of something which I used to cling onto. I also have a deeper understanding of my own self and others.
"I can also watch my feelings come and go. I'm now much more calm. I do not control my feelings nor am I a slave to my feelings."
Li Kong-yin, 27, said she used to study at a Christian school but stopped going to church because she felt many questions were left unanswered.
"Does God exist? Why does God punish us? I was told to believe in God and not to question.
"But in Buddhism, I've learned how to live my life well, and to accept things as they are. I feel more calm," Li said.
Both Fu and Li have committed themselves to Buddhism by taking part in "refuge" or gui yi in Cantonese, a formal ceremony to show confidence that the Three Jewels - Buddha, representing the goal that people can achieve; Dharma, the teachings that will bring people to that goal; and Sangha, the community of monks and nuns - can help free them from suffering, now and in the future.
Dorothy So Wai-yee, manager of the Centre of Buddhist Studies, said: "In Buddhism, we talk about doctrines, offering much more room for intellectuals to develop their reasoning than in other faith-based religions."
Its popularity may also be due to greater attention being paid to new-age beliefs.
"Buddhism is like a supermarket," Jing Yin said, speaking of its development in contemporary society.
"People go to the supermarket to look for what they want. Old people look for answers to life after death, lovers look for answers in love, businessmen look for ways to keep their wealth."
It can become more popular as people realize its applications, he added.
The Buddhist doctrines can be applied to conflict mediation, employers can "manage the minds" of their staff, not just by giving salary incentives but by making them feel spiritual growth at work, for example.
But there are many misconceptions, he added. "People treat Buddhism like a religion but it's more than that. And many think it's merely a superstition or folk belief related to performing death rituals."
Jing Yin said Buddhism has different schools, each with different practices in chanting, meditation and reciting mantra, but they are all the same in talking about the four noble truths, eight folds and five aggregates.
"It's like climbing a mountain - there are different ways to the top, but up there it's the same view, same insight - being free from suffering," Jing Yin said. "The essence is about how to live happily in this life, and to free the mind."
Zen master Dae Kwan of Su Bong Zen monastery also told a story: "Emotions and thinking are just like an unexpected guest. When the doorbell rings and you let him in without preparation, serve him some tea ... after that you should wish him goodbye."
The people in the meditation looked calm and relaxed, except for a woman at the back who was sobbing.
"The pain is part of it," I was told.
I believe she meant the pain of confronting the mind. But for me, the pain was more in the crossed legs. The wooden keisaku stick might help - if it is used on the back to release the fatigue from long sitting.
After the session, a monk offered words of wisdom: "Free your mind but don't try."