Buddha's Light Appears in Xinjiang Province
By Shi Yu, Epoch Times Staff, Mar 20, 2007
Xinjiang, China -- On February 8, 2007, a phenomenon called Buddha's Light appeared in Kanas Lake, Xinjiang Province. The Buddha light of Kanas Lake is a kind of natural phenomenon resulting from optical diffraction, and mostly appears when sunlight pours through cloud and mist. Local soldiers, officials and journalists witnessed the rare wonder.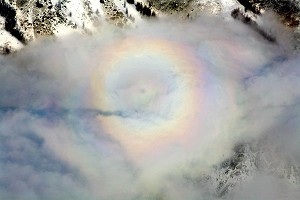 << February 8, 2007, Buddha's Light, a natural optical phenomenon, was captured above the Baihaba scenic spot in Kanas Lake, Xinjiang Province. (The Epoch Times)
The scenic region of Kanas Lake is located in Aletai mountain area of north Xinjiang. It neighbors Mongolia, Russia and Kazaksta. There are several "miracles" in the Kanas Lake scenic spot. The first is a 1,000-meter-long dead wood dyke, formed by wood floating on the lake. The second is a giant "Lake Monster" that often draws horses drinking on the lakeside into the water, adding more mystery to Kanas Lake. The third is the Buddha's Light shining over a sea of clouds, with reflections of a pavilion and human figures in the halo.
In China, this phenomenon is also called Buddha's Halo (Foguang). It was often observed on cloud-shrouded high mountains, such as Mount Tai and Mount Emei. It is a colorful circle of light appearing over the sea clouds. Observers can see the shadow of oneself in the circle. Buddhist followers say it is the light from Buddha's forehead. Buddha's Light got its name because it was thought to show a person's enlightenment, since the halo always surrounds the person's shadow.
But others say it is a physical phenomenon or an optical phenomenon. After a rain or a snowfall, the sunlight penetrates the mist and clouds and forms a circle of seven colors by refraction through the tiny water droplets in the mist. The rainbow-colored halo encircles the image of the beholder himself. One may feel as though caught in the circle, which seems to move in synchronization with one's own movements, much like one's shadow. For centuries, this phenomenon was enshrouded in mystery, and Buddhists consider it good fortune to see Buddha's Halo.
The Buddha Light did not only happen in Xinjiang. The spectacle has also occurred in other places in China during the past few years.
On September 14, 2006, Buddha's Halo appeared, around the reflection, atop of Mount Juewula located between the Dingri County and Mount Everest or Qomolangma in Tibet, attracting many tourists.
On the morning of August 13, 2006, Buddha's Halo occurred, reflecting over the sea of clouds, atop of Mount Wugong at the Jinding scenic spot in Jiangxi Province. It was clearly visible and lasted for half an hour, surprising many tourists.
October 20, 2005, Buddha's Light appeared in Ganzi Tibetan Autonomous Prefecture, Sichuan Province. Buddha's Light is known to occur here occasionally.
On the morning of July 3, 2005, the sky lit up after a long storm at the Yangshimu scenic spot in the area of Mount Wugong, Jiangxi Province. Buddha's Light appeared twice—at 8:00 a.m. and at 9:15 a.m. This scenic area is located in the northeast of Wugong Moutain, about 1700 meters (5577 feet) high.
On January 10, 2005, Buddha's Light was seen on Mount Tai. Mount Tai, known as "the first mountain under Heaven," is located in Taian City, in the center of Shandong Province. It covers an area of 436 square kilometers as its base and is situated about 1545 meters (5070 feet) above sea level.