Ancient Beijing temple bridges ancient, modern worlds
by Wu Chen, Xinhua News, April 12, 2007
BEIJING, China -- Sitting outside the Buddhist temple under a thousand-year old tree, monk, Shun Xin, feels a vibration in his pocket as his new mobile phone let's him know he's got a text message.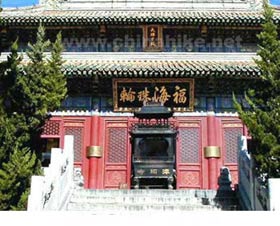 "It's convenient," says the 60-year-old monk with a satisfied smile, looking at the trendy new device which he uses to discuss Buddhist scriptures with believers and non believers.
He even received a "Merry Christmas!" message like many other secular Chinese people on Dec. 25, 2006. "I know it's a festival but have no idea about its history and custom," he said.
Modern times have indeed caught up to the 1,700-year-old Tanzhe Temple some 40 kilometers southwest of Beijing. The temple predates the city by 800 years and both are undergoing a modernization, therefore, a local saying goes that "first there was the founding of Tanzhe Temple, then the city of Beijing".
While Beijing is being renewed with glass and concrete buildings, monks at the Tanzhe Temple are happy enough to use the modern communications to publicize their place of worship's 1,700th birthday.
Erected in 307 AD during the Western Jin Dynasty (AD 265-316), Tanzhe Temple, is renowned for its close connections with the royal families of the Ming (AD1368-1644) and Qing (AD1644-1911) Dynasties.
Having been through ups and downs over the dynasties and having survived the "Culture Revolution" (1966-1976) when many and temples were destroyed, the Tanzhe temple reopened to visitors in 1980.
This year the temple turns 1,700 years old and government officials in charge are planning to celebrate by staging a beauty contest and hosting a long-distance run in honor of the upcoming 2008 Beijing Olympics, the local government announced earlier this month.
Hao Xinjian, communication officer of the Tanzhe Temple administrative office said that the beauty contest is open to volunteers of 2008 Olympics and will be held in April this year.
The one ranked first will be titled as the "Faerie Magnolia" after a trademark flower in the temple, he said.
Hao didn't explain how the local government overcame the inherent contradictions involved in having a Buddhist temple, which is home to celibate monks, to host a beauty pageant.
Hao says they also hope to have 1,700 people take part in a long-distance run southeast Beijing to the temple.
"The 1,700th anniversary is a good chance to promote the Tanzhe Temple brand," Hao said.
The administrative office has been selling the temple as a tourist product for several years and their efforts have earned a lot of cash.
The temple received 450,000 visitors last year up from 250,000 in 1998. The temple's yearly profit in 2006, made from ticket sales, restaurants, souvenir shops, and incense and candle stores, is double what it was five years ago.
"The development of the temple depends on tourism," said Hao.
He said nowadays the Tanzhe temple is more of a tourist spot than a place of worship, as many visitors, especially young people, are not Buddhists.
"The religious element and long history add to its mysterious atmosphere, which makes the spot more attractive to curious youngsters," he said.
Yet almost all the young visitors Xinhua talked said they came to the temple because it was spiritually uplifting. Wang Yushan, an army officer said he has visited the temple twice and likes the ancient buildings, melodious tolls of its bells and the quiet environment.
"I think many young people like me don't go there to make a pilgrimage, but to relax," Wang said.
Jing Luyan, a 22-year-old college student said she prayed before the statue of Buddha, asking for good health for her parents and a stable relationship with her boyfriend.
"I'm not a Buddhist, but making a wish in front of Buddha gives me self-confidence," Jing said.
She said in modern world, stressed-out city people need a place to relieve their pressures.
Still communications officer Hao maintains the religious meaning of the temple has all but faded and the temple must be part of today's world.
Hao's opinion is not entirely shared by two monks at the temple.
"We can preach to more people," Shun Xin said agreeing the tourism has has given the temple a boost.
Another monk, Chang Ren, was of another mind. He says too many visitors disturb the quietness and isolation monks need to rid themselves of desires according to the Buddhist doctrines.
"Some female visitors are barely dressed in summertime, which may lead some monks to think evil thoughts," he said.