The Dark Side of Shaolin Temple
By Haitien Ludi, The Epoch Times, Apr 24, 2007
Dengfeng, China -- As I made my way up Mt. Songshan, the rain stopped and the sun broke through the clouds. I took this as a good omen on my way to visit a "Pure Land of Buddhism"—the famous Shaolin Buddhist Temple, Dengfeng City, in China.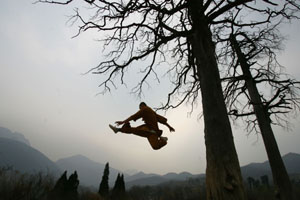 << A monk of Shaolin Temple practises kung fu in Dengfeng, Henan Province, China. (Cancan Chu/Getty Images)
But after a 4-hour stay at the temple, I realized that the "Buddhist" title it holds has become nothing more than a façade.
As a Buddhist, it's been my custom to burn a stick of incense when passing a temple. Burning incense requires a sense of etiquette and reverence. Good quality incense is preferred, but one should not go to extremes.
I was shocked to see the decadent state of incense burning in the main hall of Shaolin Temple. The thinnest stick was thicker than an arm; the thickest stick wider than a bowl. Each was nearly 4 feet long.
In the past, who could afford to burn such a luxurious stick of incense so casually? It was not difficult to tell that the incense was for making money rather than for showing reverence to Buddha. However, being a Buddhist, I still believed I could see beyond this and burn a stick with a pure heart.
As I stood in line to purchase incense, I observed how the Shaolin monks lured tourists into the main hall to get their money. Three monks sat in front of the hall asking every visitor to sign their name in a "prayer" book.
The monks then told them that Abbot Shi Yongxin would chant scriptures for them to eliminate misfortune, and that they might want to burn a stick of incense in return to show their reverence.
If it wasn't for the person being duped in front of me, I might have been duped as well. When a monk told him that the price of the stick he picked was 6,000 yuan (approximately US$770), he turned pale. Imagine, 6,000 yuan for a stick of incense!
His wife looked as if she were going to faint as she tugged at his sleeve to leave. But the monk standing beside them told him, "But sir, you've already signed your name." And thus, with the Buddha statue before him and others watching, the man reluctantly paid.
After witnessing this, I was disheartened and turned away. Even if I could afford the incense, I would not pay such a price. Taking advantage of people like this in front of the Buddha is disgraceful!
As I made my way through the temple, I saw the door to the last hall was open and people were kowtowing and burning incense there. I thought that perhaps it wouldn't be so expensive there and I could place money in the donation box at my discretion. But I was wrong.
I burned a stick of incense and kowtowed three times. I hadn't even stood up before a monk was already at my side. He said this hall was for visitors to make wishes and I should pick an incense wish bag. Each bag had six lines of poetry on it, with each line beginning with a number. He asked me to pick a number from the bag I chose.
I picked the smallest number, six. The monk told me that each number represented 100 days, so the monks would chant scriptures for 600 days for me to enable my wishes to come true. He said that each day would cost 1 yuan, and thus I had to pay 600 yuan (approximately US$78). I was both shocked and embarrassed. I put the money on the desk and left in a hurry.
Before I left the temple, I overheard a tour guide leading a group of tourists. She said, "Abbot Shi Yongxin has good business skills. If he had not entered into religion, he would have become an entrepreneur or perhaps a high-level Communist Party leader ... "
I was speechless. How could the abbot of a Buddhist temple be so savvy with money and political power?
This experience has led me to believe that the once holy Shaolin Temple has become a faithless place of money worship. Where is the "Pure Land of Buddhism" to be found today?