`Doubly happy' event marks Buddha day
by Diana Lee, The Standard, May 25, 2007
Hong Kong, China -- More than 10,000 people crowded into the Hong Kong Convention and Exhibition Centre in Wan Chai Thursday for the official ceremony marking the Buddha's birthday.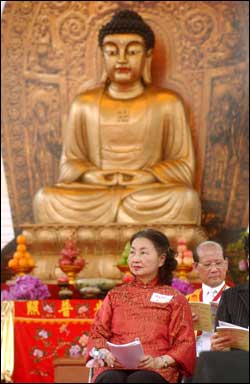 The eighth day of the fourth lunar month marked the 2,551st anniversary of the birth of the Buddha.
Hong Kong Buddhist Association president Kok Kwong presided at the ceremony and led other Buddhist leaders in prayers.
The official guests included the commissioner of the Ministry of Foreign Affairs in the HKSAR Gao Siren, Secretary for Home Affairs Patrick Ho Chi-ping, Legislative Council president Rita Fan Hsu Lai-tai, and former secretary of justice Elsie Leung Oi- sie.
Among others at the ceremony were National People's Congress Standing Committee delegate Tsang Hin-chi, Confucian Academy president Tong Yun-kai and Cantonese opera star Liza Wang Ming-chuen.
They performed a ceremony called "bathing the Buddha," by pouring consecrated water and flower petals on a statue of the Buddha.
The organizer expects that up to 50,000 people will attend the four-day function, for which entrance is free. Kok said this year's celebrations were a "doubly happy" event for Hong Kong as it marked the ninth year since the Buddha's birthday became a recognized holiday and the 10th year since the territory rejoined the motherland.
"This shows the central government's commitment to the freedom of religion and the SAR's government fair treatment of all religions in Hong Kong," Kok said.
"The public holiday also allows Hong Kong people the opportunity to leave their work behind and to understand more about Buddhism."
Among the worshippers was a woman surnamed Lin, 40, who came from Shenzhen with friends.
"I have been a devout Buddhist for more than 10 years. I came here because I wanted to know how Hong Kong Buddhists celebrate the Buddha's birthday," she said. "The ceremony was very well-organized, clean and orderly. The celebration was also on a larger scale than in Shenzhen."
Another Buddhist, 38-year-old taxi driver Sit Cheung-wah, came with his wife and two-year-old son. He said the venue was well decorated and the ceremony solemn.
Simon Fung, 60, who is in the environmental business, said he is not religious but like many others, he wanted to "feel the spirit of Buddhism."
It was the second time he attended the ceremony at the exhibition center.
"It is great that the government has made the Buddha's birthday a public holiday. It allows more people to have a better understanding of one of the oldest religions that teaches people to be good and honest."