Which Temple Follows The Way?
By Ben Hurley, Epoch Times, Jan 28, 2008
Beijing, China -- In recent years, Shaolin monks from China have gained an international reputation for their physical endurance and feats of kung fu skill. Shaolin monk troupes have toured the world, and Shaolin temples have become a common destination for foreign travelers, with some staying for extended periods.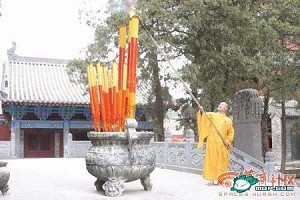 << 100,000 renminbi (AU$15,277)literally went up in smoke in the form of giant incense sticks for publicity purposes. (Dajiyuan)
But while the temple's fancy tricks have won many a heart abroad, Buddhist circles in China are less than impressed, with almost 95 per cent of participants in an online survey saying monks should not immerse themselves in worldly ways.
Many believe the Shaolin have abandoned their monastic traditions of leaving the world and severing worldly desires and pursuits, and have become a tourist recreation center obsessed with money and reputation.
On January 9, a post by a user calling him/herself a group of monastic monks compared the Shaolin temple to the Dabei temple in Shanxi .
The posting received a massive response, with more than a million hits within 8 days and more than 7000 responses. More than 70,000 users took part in a survey titled "Do you think today's monks should assimilate into the ways of today's society?" with 95 per cent of users voting "monks should cultivate their hearts in a peaceful and clean environment, they shouldn't enthusiastically immerse themselves in the world."
Users assailed the commercialisation of the Shaolin temple as well as the actions of its abbot, Mr Shi Yongxin, criticizing Mr Shi's celebrity status on international television and his own brand of noodles, to the many young female travellers who stay a few nights at the temple. More contentious was the 100,000 renminbi (AU$15,277) which literally went up in smoke in the temple's most expensive giant incense stick.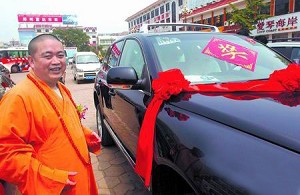 Shaolin Abbot Shi Yongxin was given a 4 wheel drive by local officials for 'contributions to tourism'. (Dajiyuan) >>
The first discussions began with a message posted by user yuanlejushi in September 2007. "The actions and intentions of Shaolin Temple, under the guidance of Abbot Shi Yongxin, would make any true believer of Buddhism feel ashamed," said.
"The Shaolin temple is the founding place of Zen Buddhism, and it has a profound influence on Zen believers in China and even around the world. But today the temple doesn't promote the Buddha Law, it doesn't spread the Law to benefit the masses, but rather abuses the prestige that has been established over 1000 years by great monks, to wantonly amass wealth. If it's not a circus, then what is it?"
Another user said: "Looking at Shi Yongxin's consistent words and deeds, and his attitude of doing things, it looks like he runs an undercover Communist Party cell."
The Shaolin temple was founded more than 1000 years ago by the founder of Zen Buddhism, Boddhidarma. In the past 20 years, with the emergence of a movie on the temple, it has become the number one tourist destination in Henan Province, and a pillar of Dengfeng city's economy. According to Shaolin temple authorities, the temple was commercialized to fulfill the material and spiritual needs of believers from all faiths.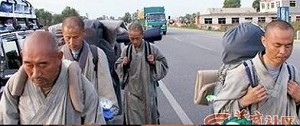 << Monks from the Dabei temple follow the Buddhist doctrine of travelling everywhere on foot. (Dajiyuan)
Comparisons were made to Dabei temple Shanxi, which users said was possibly the only temple left in China which has not established a "virtue box" to solicit money. The monks of Dabei temple work hard to remain self-sufficient, wear rags, never come into contact with money and only eat one meal per day.
"What a moving comparison" said user Sam800 "I used to admire the Shaolin temple, because there are so many moving stories and admirable traditions. But I now deeply admire the monks of Dabei temple. Times have changed so much, but they still have held to their fundamental beliefs.
"I can feel the existence of a deep meaning in their lives, but on the other hand, the Shaolin temple has become nothing but an empty shell. The pursuit of fame and personal gain fill that place to the brim."