China gives nod to Tzu Chi group
By Benjamin Kang Lim, Reuters, Mar 11, 2008
BEIJING, China -- China on Tuesday officially approved a Taiwan Buddhist group which has been quietly conducting charity work for almost two decades, a landmark concession to religion by the country's atheist Communist rulers.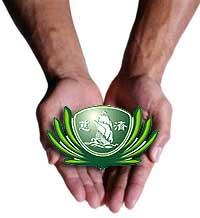 China maintains tight control over religion but has sought to use Buddhism to help curb rising social unrest and help fill an ideological vacuum which has spawned corruption and eroded ethics in the post-Mao era.
The Ministry of Civil Affairs issued a license for the Taiwan Buddhist charity group Tzu Chi to run "the first foundation (in China) in which a non-mainland resident serves as the legal representative," Fan Liqing, spokeswoman for the cabinet's Taiwan Affairs Office, told reporters.
But for Tzu Chi, it will be business as usual.
"We will not change our ways. We will go wherever there is suffering," Lin Pi-Yu, vice-president of Tzu Chi, told Reuters when asked about the group's future plans. "Our hearts are calm."
Asked why she thought China approved the group's application, Lin said: "For 17 years, they've seen our diligence and honesty in cultivating the land."
Lin, who is visiting Beijing, declined to comment on tensions between China and Taiwan, diplomatic rivals since their split in 1949 at the end of the Chinese civil war.
China claims sovereignty over self-ruled Taiwan and insists on eventual reunification. Despite the rivalry, however, bilateral trade and investment, tourism and civilian exchanges have blossomed since the late 1980s.
Before Tuesday, Tzu Chi was in legal limbo while its volunteers, many of them Taiwan businessmen or professionals in China and their families, carried out charity work across the country.
Tzu Chi has organized bone marrow transplants for 1,700 patients in 26 countries, including almost 700 people in China. Volunteers have engaged in poverty alleviation work in dirt-poor Guizhou province and built water storage tanks in arid Gansu province. They built 3,000 houses in three flood-ravaged provinces in Tzu Chi's China debut in 1991.
China keeps a tight lid on non-governmental organizations, but welcomes the millions of dollars they bring annually to make up for a dearth of government spending in public welfare and environmental protection.
In 2006, Jia Qinglin, ranked fourth in the Communist Party hierarchy, warned against foreign infiltration using religion.
But Jia, the top adviser to parliament, invoked religion this month to back President Hu Jintao's campaign to build a "harmonious society" in the face of rising social unrest.
"We should follow the policy on freedom of religious belief ... and make full use of their positive role in promoting social harmony," Jia told fellow advisers to parliament.
That attitude marks a huge change since the 1966-76 Cultural Revolution, when temples were shut, statues smashed, scriptures burned, and monks and nuns forced to return to secular life.
The government is generally less fearful of Buddhism with its home-grown roots, but maintains tight control especially in Tibet where monks have been jailed for supporting their exiled spiritual leader, the Dalai Lama.
(Additional reporting by Guo Shipeng; Editing by Nick Macfie)