Troops 'seal Tibet monasteries'
BBC, March 13, 2008
Lhasa, Tibet (China) -- Campaigners say several hundred monks have joined protests Security forces have sealed off three monasteries in the Tibetan city of Lhasa after protests earlier this week, witnesses and a rights group said.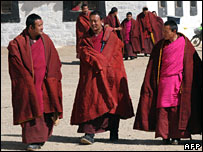 << File image of Tibetan Buddhist monks in Gansu province, China
Witnesses said police were at Drepung and Sera monasteries on Thursday. A third monastery, Ganden, was also surrounded, a US-based group said.
The move follows at least two days of protests by monks against Chinese rule.
On Thursday China acknowledged the protests but said that the situation had been stabilised.
Confirming reports from Tibet is difficult because both access and the media are tightly controlled.
But rights groups say the demonstrations are the largest in Tibet in almost two decades, and have spread from Lhasa to rural areas and neighbouring provinces.
'Three layers'
The protests began on Monday when Tibetans around the world marked the 49th anniversary of an uprising against Chinese rule.
Unconfirmed reports then suggested that as many as 600 monks from Drepung and Sera monasteries joined peaceful rallies on Tuesday and that police used tear gas to disperse them.
There are also unconfirmed reports that monks have been detained, and that monks at the Sera monastery are on hunger strike.
According to the US-based International Campaign for Tibet, three major monasteries in Lhasa are now "under lockdown and surrounded by troops".
An unidentified man inside Sera monastery told the Associated Press news agency that it was "surrounded by many people".
Another Lhasa resident told the agency that Drepung monastery was encircled by "three layers" of troops.
Two monks there were in critical condition after attempting suicide, US-based Radio Free Asia reported.
On Thursday, Chinese authorities played down the protests - which coincided with similar demonstrations in India and Nepal.
"In the past couple of days, a few monks in Lhasa have made some disturbances in an effort to cause unrest," Foreign Ministry spokesman Qin Gan said.
"Thanks to the efforts of the local government and the democratic administration of the temples, the situation in Lhasa has been stabilised."
Beijing claims sovereignty over Tibet, but many Tibetans remain loyal to their spiritual leader, the Dalai Lama, who fled in 1959 and currently lives in exile in India.
A surge in Tibetan activism could become a major concern for China in the run-up to the Beijing Olympics, correspondents say.