We want genuine autonomy: Dalai Lama
by Nidhi Razdan, NDTV.com, March 16, 2008
Dharamshala, India -- With the world watching his every move, the Dalai Lama on Sunday came out with a prayer on his lips and peace on his mind.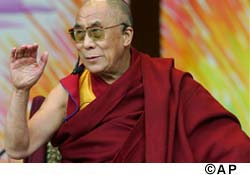 After the prayers he said he was helpless and could not stop the violence in Tibet. While on one hand he used strong words against the Chinese, on the hand, he reached out to Beijing, reiterating autonomy, not freedom for Tibet.
He even backed the Beijing Olympics. His statement on the Olympics could take the sting out of increasing demands for a boycott of the games.
The endorsement of the games will not go down well with thousands of Tibetan protestors who want a boycott.
Addressing the Tibetan protestors in Mcleodganj, Himachal Pradesh, in the wake of the violence in the Tibetan capital since Friday, the spiritual leader said that China has made scapegoats out of the people of Tibet.
Demand for probe
The exiled Tibetan spiritual leader demanded an international probe into the Chinese crackdown against protesters in Lhasa where Beijing was carrying out a ''cultural genocide.''
''Some respected international organisations can find out what the situation is in Tibet and what is the cause,'' the Dalai Lama said in his press conference.
Denying China's charge that he was behind the violence, the worst since 1989, the 72-year-old monk said that he was ''completely committed'' to non-violence and favoured a ''middle path'' which he said was also supported by some Chinese officials and scholars, whom he did not name.
The Dalai Lama, who offered prayers before talking to the press, said a ''cultural genocide'' was on in Tibet. At the same time, he said ''we want genuine autonomy and not independence (from China).''
While protests seem set to continue, the Dalai Lama did have words for New Delhi. He has told the refugee Tibetan community to refrain from demonstrations and political activity.
Chinese clampdown
After almost a week of protest and then confrontation, the Chinese clampdown on Tibetan protestors is complete.
Over 200 military vehicles, carrying hundreds of Chinese soldiers, are patrolling Lhasa and protesters have until Monday to surrender.
Though the government has promised to be lenient with them, tempers are high in Beijing, especially with the Olympics ahead.
''Before the Olympics, there will be a number of people inciting plots because Tibet is a place where people's lives are focused on religion,'' said a Chinese citizen.
''Chinese government has to cut this cancer out. We can start with the Dalai Lama and arrest those who are behind the riots,'' added another.
The effects of the events in Tibet were felt in India. There have been protests in Dharamsala - home of Tibet's spiritual leader, the Dalai Lama. He admitted that he's helpless and has no control over protesters in Tibet. (With PTI Inputs)